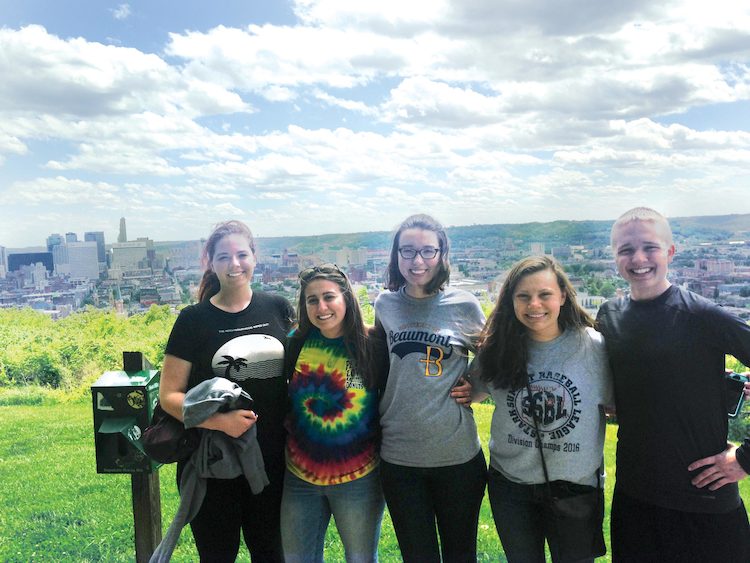 Blouin Leaders Study Gentrification, Provide Service to Homeless in Cincinnati
During four days in early May, nine students in Walsh's Blouin Leaders in Social Justice Program experienced an "urban plunge" trip to Cincinnati as the conclusion to their year of studying four issues in Ohio -- poverty, hunger, education and homelessness.
While in Cincinnati, the students focused on poverty and affordable housing with experiences that included sleeping in a church, buying lunch on an average food stamp allowance and studying the effects of gentrification on the Over the Rhine neighborhood with the Greater Cincinnati Homeless Coalition.
"The Blouin Leaders in Social Justice program honors Br. Francis Blouin, Walsh's third president, who taught by example how to live a life in service to others," said Associate Dean of the School of Behavioral and Health Sciences Dr. Penny Bove, who led the trip along with Director of Service Learning Abigail Poeske, Director of Internships Alyson Holland and Assistant Director of Resident Life Jessica Dickson.
"It was a really great trip and a good mix of serving and learning about the issues facing those experiencing homelessness. We listened to speakers who had experienced homelessness and met with advocates who are working tirelessly on behalf of affordable housing issues," said Poeske. "The students slept in a church, on the floor, and toured the Over-the-Rhine neighborhood to learn about how gentrification is affecting people who are living in poverty in that neighborhood."
In its beginning, Over-the-Rhine was a neighborhood of immigrants with a mix of ethnicities. Located close to downtown Cincinnati, the area fell on hard times and for decades was considered a neighborhood of crime and poverty that erupted into violence during the 2001 Cincinnati Riots.
In more recent years, there has been a redevelopment of the area to bring it back to its original German heritage. Led by the organization 3CDC, a revitalization has transformed Over-the-Rhine into a charming tourist destination that has also faced criticism for its displacement of low income residents during the revitalization.
"In theory, it all sounds good. You see a beautiful charming neighborhood. But you realize that because of this transformation, the rent has increased at such a rate that people are being forced out – both from their homes and their businesses," said Poeske. "Our students were able to learn about the sometimes ignored consequences that come with closing a little corner store and replacing it with an upscale restaurant or what kind of impact removing the laundromat might have on the people living in low-income housing."
Two of the most impactful experiences made the issue of homelessness more real when the group spent three nights in a church winter cold shelter and bought lunch with the average allowance on food stamps. Each student was given $1.35 to spend on their lunch in a local upscale market. Students had to haggle for a loaf of bread and couldn't afford the more expensive produce and healthy foods sold in the market. The students also sold newspapers to raise awareness about homelessness in the Over-the-Rhine neighborhood, served in a soup kitchen and tutored at-risk children.
"I had no idea about the systemic problems that contribute to poverty and homelessness such as the government loan incentives that first moved the wealthy to the suburbs and are now drawing the wealthy back into the city while squeezing out the poor and middle class," said Blouin Leader Andrew Zmecek. "I found out that homelessness is a much broader and deeper issue than what is seen on the streets. There is still a lot to learn if we are going to make a difference. While I considered myself informed before we went, our time in Cincinnati showed me that I really had no idea what was happening right in our own state, and really, in our own backyard."