Accounting Degree
The field of accounting is comprised of critical thinkers focused on the financial aspects of economic entities. According to the Bureau of Labor Statistics, employment of accountants and auditors is projected to grow 10 percent by 2026. Walsh University's Accounting program prepares students for employment opportunities within public accounting, corporate accounting, government and non-profit businesses.

Justin Maroni - Class of 2018
Majors: Accounting, Pre-Law
When I looked at Walsh University as a high school senior, one of the selling points for me was the small class sizes and the ability to develop relationships with professors. Four years later, as I prepare to begin Law School at the University of Notre Dame, I can say that the combination of these two factors has had a significant impact shaping me as a student.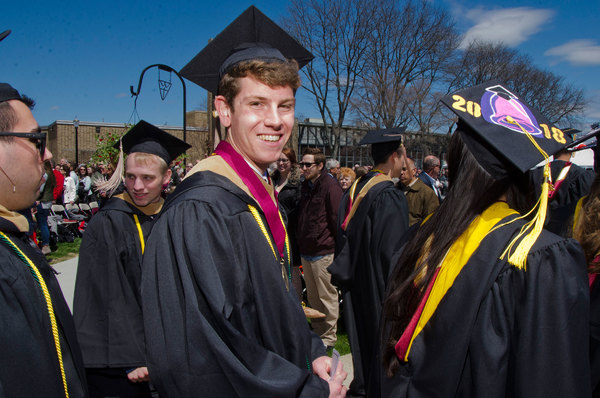 Why Walsh?
Integrated Curriculum: Walsh has established principles for each major, and these principles become themes that are carried out and reiterated through the curriculum and any experiential learning opportunities. Students will take an array of accounting courses focused on accountancy theory, financial reporting, management accounting, taxation laws, auditing and internal controls.
Hands-on Experience: Education extends beyond the classroom and into the professional world by allowing third and fourth year accounting major students to participate in an array of experiential learning opportunities and complete a mandatory accounting internship.
CPA Exam Preparation: Walsh offers a CPA Readiness Program for interested students.
Responsible Best Practices: Ethical, social, moral and personal responsibilities are integrated throughout the coursework and embedded in students' classroom and experiential learning activities.
Global Awareness: Walsh's curriculum is taught with an emphasis on global perspective, and faculty delve into the impact of the global environment on the accounting field. Students are also encouraged to participate in global learning experiences.
Partnerships: The DeVille School of Business has a partnership with Ohio Northern University for their Master's of Professional Practice in Accounting Program. Scholarships and graduate assistant positions are available. For more information please visit the Ohio Northern University website.