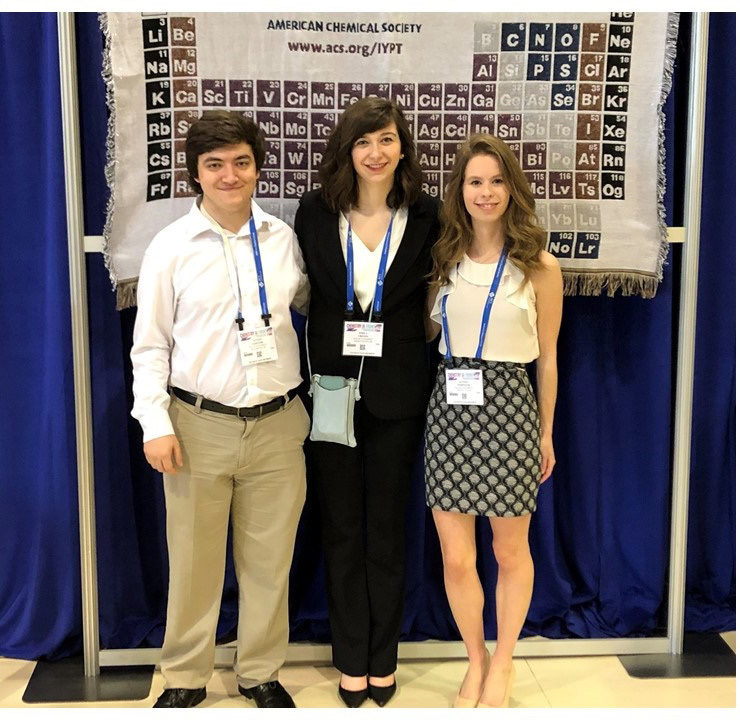 Science Majors Lauded for High-Impact Research, Record Number Present at National Conferences
April 24, 2019
The Walsh University Division of Math and Sciences is being lauded by industry leaders for its high-caliber undergraduate research that is on target with the level of work conducted by leading scientists in the country's top-tier research institutions. This year, a record number of Walsh students presented their research on the national stage in the burgeoning fields of cancer research, environmental science, self-healing polymers, protein modeling and microbial genome annotation that is critical to the burgeoning field of personalized healthcare, just to name a few.
Advanced research opportunities are becoming the norm for students in Walsh's science programs through collaborations with top research facilities such as Alabama's HudsonAlpha, the University of Pittsburgh and Michigan State University, which have led to hands-on lab internships, published research and national presentations among some of the country's most recognized members of the scientific community. All before Walsh students enter graduate school.
Students and faculty were in attendance with 12,000-14,000 of the world's leading experts in the medical industry at the Experimental Biology Conference in Orlando, Florida. During this annual conference, life sciences and biomedical researchers from all over the world meet to network and share cutting-edge research that leads to discoveries and career advancement. Faculty members and five students were in attendance including student Derek Walro, Walsh alum and Ph.D. candidate Brittany Balser '14, Pre-Professional major Olivia Sirpilla and Biology Pre-Medical student William Cvammen who presented research from his summer research internship at Michigan State University under the direction of Dr. Jeremy Prokop.
"When I began working in the lab at Walsh, I discovered that not only was I good at research, but I also really enjoyed it. I was able to then get my name on a minor publication and this was an incredible feeling to me. I began to realize what I was truly passionate about," said Cvammen. "Research has shaped my Walsh experience and helped me to discover what I wanted to do. I have come to realize that I don't need to be a doctor in the exam room to help people; instead, I can help them through my research."
In addition, a group of senior students in the STAR Chemistry program attended the American Chemical Society (ACS) National Meeting and Exposition in Orlando, Florida. The ACS National Meeting is the premier for the world's largest scientific community of chemistry professionals who meet to share ideas and advance scientific and technical knowledge. Representing Walsh University this year at the ACS were STAR Scholar seniors Austin Sartori, Emily Cronin and Alyssa Foringer who showcased their Chemistry research projects in poster format.
"The Walsh University STAR Chemistry program has permitted Undergraduate Students to conduct chemistry research in areas that are relevant and impactful in today's society," said Dr. Joe Lupica, Assistant Professor of Chemistry. "Cancer Research, Self-Healing Polymers, and Brewing Chemistry are only three of the ongoing research areas inChemistry, available to Science majors. We also have research opportunities in Environmental Science, Fuel Cells, Paint Chemistry, Analytical Chemistry and more. Working in these areas allow our students an opportunity to gain real research experience and to present their findings on a national stage."
The first of the STAR Chemistry cohorts will all graduate this year. These eight outstanding seniors completed their undergraduate study in four years and will be attending graduate school, medical school, pharmacy school, veterinary school or working in the Chemical industry.
"Presenting at national conferences like ACS not only helps students to become comfortable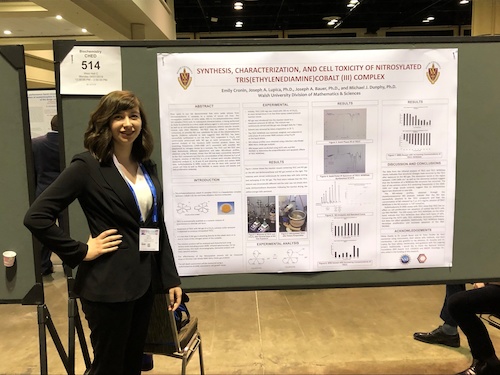 talking about and answering questions about their work and honing in on their presentation skills but also helps students to realize the vast opportunities that are available in their careers," said Emily Cronin. "During these conferences, we are able to talk with professors and even industrial professionals about different areas of research, job opportunities, and different paths that we can take in our careers. At the ACS conference, they even had a job fair and many seminars to help us further develop our professional skills and understand what it takes to obtain jobs in certain areas of our field."
In addition, 15 Walsh science students also presented at the Ohio Academy of Science annual meeting at Columbus State Community College. Within this group were various research projects, including students with a published abstract in a science journal.
"I was contacted by a representative from The Ohio Academy of Science who had reviewed our many student abstracts for publication in their journal and presentation at the OAS annual meeting," said Professor of Biology Dr. Adam Underwood. "He congratulated Walsh for its productivity and unusually high student involvement in undergraduate research. He stated that this year Walsh had a 'dominant presence' at the conference, with more student participants and abstracts than any other institution in Ohio. This is a testament to our goal to provide undergraduate students with graduate level research opportunities that is on par with the top-tier labs across the country."