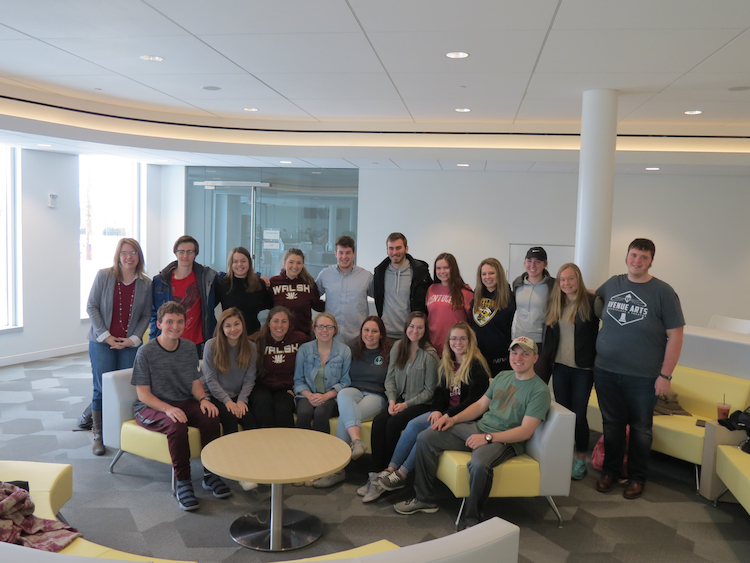 Blouin Scholars Address Global Issues of Education and Equality by Starting Locally
Walsh's freshman cohort of the Blouin Global Scholars will spend the next four years studying and researching solutions to address issues of education, equity, and opportunity locally and throughout the world. The Global Scholars Program provides students with a unique opportunity to become part of an on-campus community dedicated to using scholarship and service to address major global issues.
The freshmen team began their first year of research into educational equality by partnering locally with Gibbs Elementary School to deepen their understanding of their chosen topic. Gibbs is a part of the Canton City School District, one of the state's "Big 8" urban districts located in Ohio's largest cities and characterized by high student poverty, high numbers of immigrant students and low overall academic performance.
"Even though this Blouin cohort is studying education on a global scale, it's important that they begin learning about local challenges in education first," said Amanda Gradisek, Ph.D., cohort director and Chair of the Division of Literature, Language & Communication. "Gibbs is only several miles away, but in terms of institutional inequality, it helps the students understand the gaps in resources and opportunities for students from lower socioeconomic backgrounds, a large number of whom are people of color. The Blouin program teaches students to observe before proposing solutions and that problems are grounded in complex and interlaced structural impediments."
The students work closely with Principal Myra Watkins, Assistant Principal Dr. Nikki Bush, teachers, students and administrators to learn more about the challenges and successes of working in an urban district. By immersing themselves in the school setting, the Blouins are able to listen, observe and experience in a more personal way the impact a strong educational system and supportive school environment can have on its community.
Blouin member Nathaniel Chwalik, Graphic Design and Marketing major from Delaware, Ohio, credits the experience with helping him to approach his chosen major in a new way, while improving his communication skills.
"The relationship with Gibbs has helped us to understand the topic by exposing us to an education system where we could implement different projects in an attempt to improve the school," said Chwalik. "From this experience, I am learning how to assess different issues, discover solutions and apply them. This translates to my major because it is important to be able to communicate and understand the needs of others in the business world."
A native of North Canton, Walsh Education major Allison Anderson says the experience has helped her to develop an appreciation and understanding of the educational system in her own community which will help prepare her for future classroom experience.
"I love that our cohort is studying how education is affected by its surrounding neighborhood and what school systems can do to help their students be successful. I can already see how this is going to help me someday in my own classroom," said Anderson. "This experience gives us a better understanding of how a school should work with its students. We are able to work one on one with the students and teachers, and share in their struggles and successes."
The local partnership originated from a community roundtable discussion during Walsh's Women's Empowerment Conference this fall. Facilitated by Walsh faculty and staff members, the event included roundtable sessions with more than 25 community and business leaders. As one of its first initiatives of the school year, the Blouins hosted a round table on Education, Opportunity, and Equity where Gibbs Principal Watkins shared the challenges of how urban districts help students access technology in the classroom.
"The partnership between my Blouin cohort and Gibbs Elementary grew organically out of some of the more innovative programming we have here at Walsh. Community leaders in attendance at the WE Conference heard Principal Watkins speak firsthand about the challenges she faced, and, during the round table, started talking about what they could do to help. The result was a donation of 45 much-needed computers to Gibbs by a local company," said Dr. Gradisek. "This is just one example of how the collaborative work led by the Blouins can effect positive change in the community."
The Blouins will apply the lessons they have learned locally to their research of global educational systems during the next three years. Future initiatives include organizing a cultural fair at Gibbs Elementary and international travel to study global educational systems in areas such as Uganda and Italy.