My office is my dorm room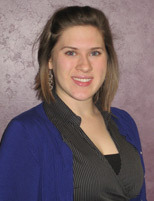 Anna Wilson - Class of 2010
Some people build companies in garages; I started mine in my dorm room. Last year, as a junior marketing major at Walsh, I formed my independent marketing firm, SkipStone Marketing, LLC, to assist companies in promoting their products and services in new and creative ways. Walsh has educated me in every area through solid academic programs and experiences in global learning, but Walsh specifically set me on the road to success for starting my own business as an undergraduate.
Walsh's Career Center hosts many career fairs during the school year to introduce students to professional intern and job opportunities. While at a job fair in spring 2009, I met a representative from Diebold, one of the largest providers of ATM and security solutions for financial institutions. After two interviews, I was hired for a Global Marketing Internship! However, in January 2010, Diebold began heading a new direction, and many people were laid-off, including many of the interns. My supervisor assured me that they were very happy with my work, but they could not continue to employ me at this time. We discussed other options and agreed that if I formed my own LLC, I could continue to work with Diebold and other companies. This opportunity was too good to pass up. My advisor Dr. Mark Platts supported me during this process, and even nominated me this past spring for an award pertaining to my entrepreneurial endeavor and my accomplishments as chapter president of the American Advertising Federation. The Thrive Under 35 Award is presented every year by the Canton Ad Federation, and it is given to two professionals and one student intern in the Akron/Canton area per year. I was fortunate enough to receive this award in 2010.
SkipStone Marketing's name comes from the idea that if you throw a stone into water, it can create a ripple; the idea that something so small can influence such great change is incredible to me. I ultimately would love to provide marketing and communication services to non-profit companies, especially those directed towards humanitarian relief, but I enjoy every aspect of marketing. I love the idea that you can raise awareness about a need and make people passionate about it.
Some people think that starting a company as an undergraduate is completely crazy, but it is possible! If you find the right need for the product or service, the right drive within yourself, and the right support as Walsh has given me, you can do it.