Art History Degree
What is Art History?
Art History is a liberal arts discipline in which the history of world cultures is examined through the lens of created objects (paintings, sculpture, architecture, stained glass, ceramics, textiles, prints and the graphic arts, drawings, metalwork and jewelry, urban spaces, video and digital media). Interdisciplinary by nature, the Art History undergraduate degree brings together aspects of philosophy, theology, anthropology, economics, foreign languages, geography, studio arts, history and archaeology to interpret works of art from a variety of points of view, utilizing a host of methodologies. Art Historians are keen observers. They are historians who anchor their research in purposefully made objects and sites. Art Historians are scholars who interpret the built environment and material culture for others.
Gabriella Cantelmo - Class of 2016
Majors: Art History and Museum Studies
Minors: Art and History
Employer: Mahoning Valley Historical Society
As a Museum Educator, most of my time is spent teaching students in area schools, both public and private. My education at Walsh taught me about various aspects of museums, including how all of the departments work together. For my current job, I try to get as much experience as I can, and to have the background in every department is extremely helpful. By choosing Walsh, you're choosing yourself. Walsh is a loving atmosphere where everyone wants you to succeed and get the best education you can. Every class is small enough that the professors will know you and will help you when you need it. Walsh's classes are very experience oriented. The emphasis on internships and global learning help make you a well-rounded individual.
What makes Walsh's Art History degree curriculum unique?
Small class sizes and close faculty-student interaction
Opportunities to intern at area art museums, arts organizations and galleries, many of which are located right in Northeast Ohio
Excellent library resources through OhioLink, ArtStor, and other databases for art and architecture
Options to double-major or minor in Accounting, Marketing, Management, Chemistry, English-Writing, History, Museum Studies, Philosophy, Theology, or a Foreign Language
Global Learning opportunities in Rome, London, Paris, or other major art centers
Students have the option to enroll in Walsh's new 4+1 Program for non-business majors who would like to supplement their bachelor's degree with an MBA. Through the program, students simultaneously earn undergraduate and graduate credit for Walsh's MBA Prep Series courses, saving both time and money as students pursue their advanced degree.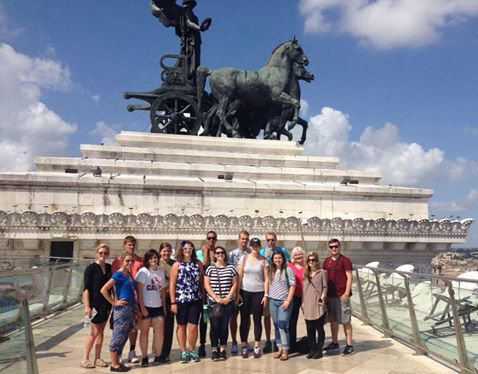 Generally speaking, what courses will I need to take?
All students take an introductory survey in Art History, a philosophy course in Aesthetics, a one-semester internship, and a senior seminar.
Each student writes a capstone research paper in his or her senior year.
Students choose one studio arts class (Drawing, Visual Order, Graphic Design) and one diversity course (Arts of Asia, Africa, and Islam, OR Native Americans, African Americans, and Women in the Arts).
Students choose five electives among a host of special topics, such as Greek and Roman, Medieval, Renaissance, American Art & Architecture, Modern Art, History of Photography, and Global Contemporary Art.