Br. Francis Blouin Global Scholars
Solve Real-World Problems at a Global Level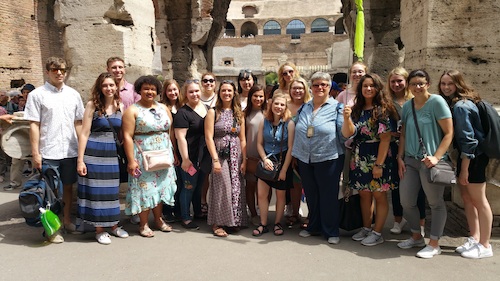 The Blouin Scholars Program in Global Studies at Walsh University provides students with a unique opportunity to become part of a community of students and faculty dedicated to using scholarship and service to address major global issues. Blouin Scholars live and take classes with a cohort of students who are similarly dedicated to become leaders in service to the global community. All classes are built into the Walsh University core curriculum–studentsstill choose their own majors and minors–and center on a common global theme.Blouin Global Scholars have access to opportunities such as global learning in Africa and Europe, special lectures and co-curricular activities, as well as priority registration and advising procedures.
Program Benefits
Scholarship covers travel and expenses to Africa and Italy
Students work to solve complex, real-world problems that impact the local community and the world
Distinction at graduation and on transcripts
Support from a faculty director for four years
Community of peers that work collaboratively
What types of experiential learning opportunities are provided?
Global Learning Program in Moshi, Tanzania
Internship/Practicum in Rome, Italy
Regional student conferences and events on global issues (i.e Ohio Hunger Dialogues, Peace and Justice Institute)
Admissions Criteria
3.2 GPA
Application
Essay
Interview
What are students saying about the program?
"I have become a stronger, well-rounded more informed person thanks to the Blouin Global Scholars Program. The travel to Italy and Africa were the hallmark experiences of my four years!" - Teresa Klimek