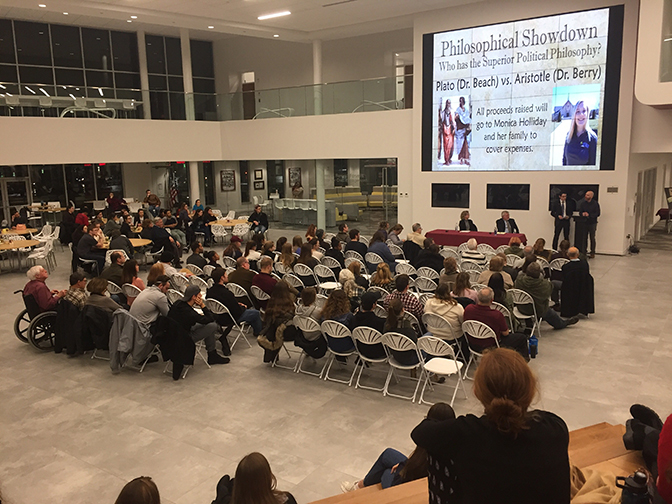 Students Organize Plato and Aristotle Debate to Support Fellow Classmate
More than two hundred members of the Walsh community came together on Tuesday, February 12, to participate in a student-organized fundraiser for fellow classmate Monica Holliday. The unique charity debate between "Plato" and "Aristotle" raised over $5,000 in support of Holliday, who was critically injured in a serious car accident over the summer. A rising junior double major in Philosophy and Government and Foreign Affairs at Walsh, Monica was highly involved in activities on campus, such as Student Government, the Student Alumni Association and Dance Marathon, and touched the lives of many at Walsh.
The main event of the fundraiser was a debate between Plato and Aristotle to determine which has the superior political philosophy. Plato was represented by Dr. Bradley Beach, Chair, Division of Humanities and Professor of Philosophy, and Aristotle by Dr. Koop Berry, Professor of Government and Foreign Affairs.
"The idea for the fundraiser came from my back-to-back classes with Drs. Beach and Berry. They would send me as a messenger between the two as they debated Aristotle and Plato," said event organizer and junior Government and Foreign Affairs major Ben Young. "Eventually, after a few weeks, Fred del Guidice, who was in Dr. Berry's class with me, suggested that the two professors have a debate for charity and Dr. Berry suggested Monica as the perfect cause."
Dedicated to her studies in both the fields of Philosophy and Government and Foreign Affairs, Holliday also excelled in the classroom.
"Both Dr. Beach and I had Monica in class," said Dr. Berry. "This is close to my heart because I know Monica, how bright and energetic she is, how curious, how much she wants to make change in the world, for the better. Walsh has always been a close community, this is part of the Brothers legacy and mission. Educating the whole person means being invested in the individual as well as 'the village' of Walsh. The students, staff, faculty, and friends are incredibly generous and caring because that is the type of people Walsh attracts."
A donation of $2 was collected at the door for a ticket, used for both door prizes of gift cards as well as voting for the winner of the debate. Attendees were encouraged to vote for the winner with their tickets. After the votes were tallied, Dr. Berry on the side of Aristotle was declared the winner.
"When we have a fallen Cavalier, it is amazing to see the love and support rallied for our friend," said student organizer and senior Theology and Philosophy major Phillip Pillin. "I was impressed and moved by the number of faculty and staff, who took time out of their busy schedules to come out for Monica. I was moved by the students, even ones who may not have known Monica closely or personally, who came out to support her."
Education students made babysitting available for families to attend. A classic "pass the hat" concluded the evening, with great generosity from the Walsh community. All money raised from the event will be donated to Monica Holliday's medical bill fund. At the conclusion of the debate, attendees were encouraged to write well wishes for Monica on cards provided.
"As a Cavalier, Walsh students are taught to reach out when fellow members of the community are struggling," said student organizer and junior Theology and Philosophy major Fred del Guidice. "I knew Walsh was extremely generous, but I was overjoyed to find out how eager students, faculty, and administration were to support this initiative."
Several departments cosponsored the event: The Renacci Center, The Office of Advancement, The Office of the President, Student Affairs, Student Government, The Student Alumni Association, Sodexo, and Campus Ministry.
Donations are still being accepted for this fundraiser. If you wish to donate please contact Student Affairs or Fred del Guidice at fdelgui1@walsh.edu.