And the last shall be the first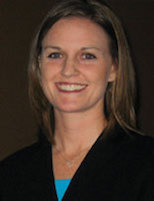 Brittany Harmon - Class of 1998
We had already gone on spring break thinking the basketball season was over. I was a senior so I knew this would be my last spring break and I was ready to make it a good one. We lost our game in the conference tournament to go to nationals and knew we hadn't qualified. Then we got the call that changed everything. I thought I had played my last college basketball game, so, when I realized I had the opportunity to come back and play again, I was going to take advantage of it. I had a very positive mindset going to the tournament. I think we all did, and it paid off. To everyone's surprise and excitement the Lady Cavaliers, an unseated team, won the title.
The whole experience with nationals was just phenomenal, and the school spirit behind it was great. We were out in Sioux City, Iowa, so we had our families and some staff but only a few students - some students drove out once we made it to the Final Four, and it was great to have that support out there. Then we had a fabulous welcome back when we came home. When we returned to campus, there was a huge gathering in the Campus Center. The experience was great. We had great coaches, Karl Smesko, Bob Boldon, Jerilyn Cushing and others who had a lot to do with our success. We all have a great bond now through that experience.
I feel honored to be a part of the first team to win a national championship for Walsh. We were definitely an underdog but we all knew how special the team was and how good we really were, so it was just us believing in ourselves and knowing that we could do it.
Brittany was recently married on October 17, 2009. She lives in Baltimore, MD, and works for FishBait Marketing.