How I met my husband and became a pacifist with a gun…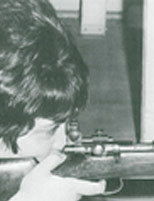 Carole Bendekgey Eaton - Class of 1970
There was a buzz on campus in 1967 about two basketball players - Joe Eaton and Bill Polinsky -- coming from Kent to Walsh. All kinds of speculation that these great players were going to bolster our team and take it to a whole new level. That is how I first heard of Joe Eaton. We met officially on the Walsh Bowling League. But it wasn't until January that we began dating. I remember that it was the first home game Joe and Bill played for Walsh - and it was against Malone. Walsh won and all of the students swarmed onto the basketball court - it's what we did back then. We were all congratulating the players and cheering - I went up to Joe and congratulated him. He was so tall and reached down to give me a kiss and I remember thinking "how dare he?" and I stalked off.
After the game, as was customary, we all hit the Canton bars. Joe went to every bar that night looking for me! We finally met up at Strouble's in the back room which was known as the place that Walsh students hung out. And later he asked if he could give me a ride home. That's how we started dating. We were married the summer before our senior year, which made us the first married couple to graduate from Walsh. The Canton Repository did a big story about us when we graduated. That was 39 years ago. We celebrated our 40th anniversary just this summer.
Incidentally, I was also directly involved in bringing the Women's Movement of the 1960's to Walsh. We were just being silly, but for some reason, a group of us girls decided we were going to join the Men's Rifle Club in 1968. There were three or four of us. It was either Celia McCann's or Susan Jacoby's idea. It was just something we thought we'd do as a joke - you know, getting into the feminist movement of breaking down male barriers etc. Here we were at this predominantly male school and we decided this was a way to make our own statement in support of women's lib.The funniest thing is…I hate guns. HATE them. I'm a self-proclaimed pacifist and pro gun control. My kids weren't even allowed to have toy guns. But I was on the Walsh Men's Rifle Club. We would shoot pellet guns at targets at the McKinley Range. Celia even became secretary of the club. I didn't particularly like shooting the gun, but I remember trying really hard to hit the bulls-eye and to become a steady shot. I had never shot a gun before joining and I haven't shot one since. But that was my contribution to the feminist movement.