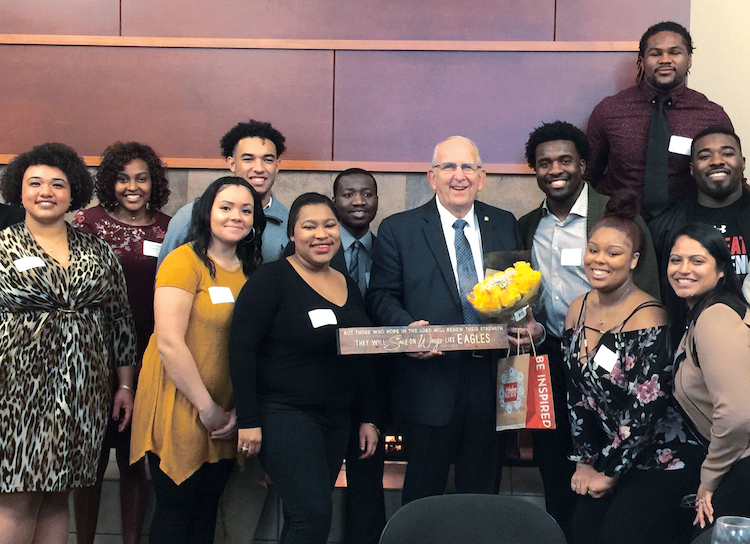 Cultural Connections: New Multicultural Program Bridges Campus and Community
Throughout her more than 20-year career in higher education, Walsh's Division of Education Field and Clinical Placement Coordinator Carrilyn Long, has done what came naturally to her. She reached out to students. She supported them. And this past year, she was asked to take her initiatives to the next level on behalf of Walsh University students. The result was the establishment of the new Cultural Connections program.
This past March, Long was honored for her community-building efforts with two local awards, the Walsh Woman of Distinction Excellence in Academic Leadership Award and a 2018 Black History Month Trailblazer Award from the Canton City School District.
"My passion has always been in supporting all students and helping them to succeed. Throughout my career I have been active in retention initiatives that help to support students of color in their pursuit of a higher education degree. In fact, my doctorate was focused on the retention of African-American students in the college setting," said Long. "It's important for everyone on a college campus to reach out to students daily, and ask them how they are doing and if they need anything. I think it is vitally important for all students, no matter who they are, to feel that level of support at their institution."
Long realized that providing students support on campus also meant surrounding them with support off campus as well. After receiving the endorsement of Walsh's Diversity Council last fall, she developed Walsh's Cultural Connections program, which kicked-off this January during the first Mentorship Dinner. The Cultural Connections Program was designed to pair multicultural students with mentors who hold leadership roles in the community.
"Cultural Connections is an initiative I wanted to bring forward to help our students see that there are professionals in the community who look like them," said Long. "I began pulling together a list of people who are within a half hour drive. In no time, I had 40 individuals who were willing to volunteer as mentors. They each want to contribute, but in their own unique way. So our goal is to create the mentorship system and allow the students and mentors to work together to determine the content."
Cultural Connections began with a Sunday meeting in fall 2017 where Long convened a roundtable discussion of interested students to explore their needs on campus. The group met several times prior to the first Mentorship Dinner to discuss professional dress and to prepare for meeting the mentors.
"I felt it was especially important to have our students' input before proceeding with the program so that we could be sure our mentors were meeting their needs," said Long.
The 40 mentors come from various professional backgrounds including Walsh alumni, government officials, local educators, lawyers, healthcare professionals, non-profit organization leaders and religious clergy. During the first Mentorship Dinner, Cultural Connections students presented Walsh President Richard Jusseaume with yellow roses symbolizing friendship and a wooden plaque engraved with the quote "But those who hope in the Lord will renew their strength. They will soar on wings like eagles." ~ Isaiah 40:31.
Future plans for Cultural Connections will include hosting the 10th Annual Early College High School Senior Dinner on Walsh's Campus in May and possibly a Walsh freshman picnic in August. In addition, mentors will be visibly present on campus and at Walsh athletic events throughout the academic year.
"I found that all you needed to do was ask, and people truly want to be involved," said Long. "As a community, it's important to acknowledge that we all have a role to play, and talents to lend, in contributing to somebody's success."