Chemistry Degree
What is Chemistry?
Scientific fields need people who are curious, innovative and intelligent who want to become lifelong learners.
Chemists study the composition and chemical behavior of matter, the physical components of our world, including living cells. Chemistry involves a wide array of knowledge and skills, both theoretical and practical, which enable chemists to study matter at the molecular level. This understanding allows chemist to synthesize new molecules with specialized properties, to do compositional analysis to verify the identity of substances and to make predictions about the chemical behaviors of matter in new situations and applications.
Students completing an undergraduate Chemistry major will be well prepared for careers in synthetic chemistry, materials science, environmental science, polymer science, fuel science and many other areas in which knowledge and skills in chemistry are needed.
What makes Walsh's Chemistry curriculum unique?
Education from Experienced Professionals. Our instructors have significant experience within chemistry. They bring a real-world-applications background to their teaching within the chemistry field.
Strong Research Focus. Our chemistry majors graduate with an ample amount laboratory research experience thanks to the required laboratory activities in our curriculum.
In addition, students have the option to enroll in Walsh's new 4+1 Program for non-business majors who would like to supplement their bachelor's degree with an MBA. Through the program, students simultaneously earn undergraduate and graduate credit for Walsh's MBA Prep Series courses, saving both time and money as students pursue their advanced degree.
Generally speaking, what courses will I need to take?
Students within the chemistry program take a cross-section of courses in chemistry, math and physics and gain considerable laboratory experience. Required work includes one Physics lab, as well as Calculus I, II and III.Some other core courses include:
Principles of Chemistry
Organic Chemistry
Quantitative Analysis
Instrumental Analysis
Inorganic Chemistry
Physical Chemistry
In addition to core classes, chemistry students also can choose from a wide variety of electives that relate to more specialized topics, such as Biochemistry, Advanced Chromatography, Symmetry and Group Theory, Molecular Pharmacology and Introduction to Research. These subjects help students prepare for entering graduate programs.
Thomas Krainz - Class of 2018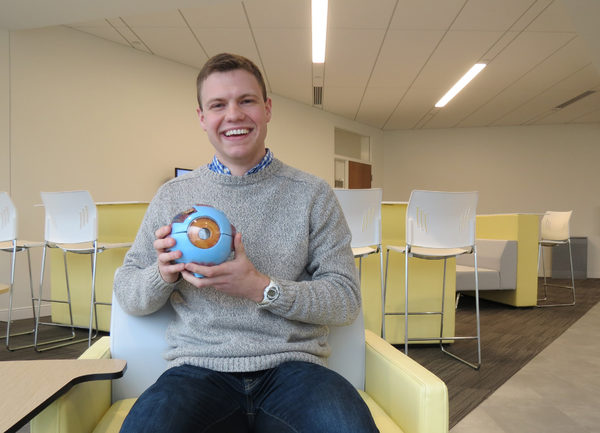 Major: Biology, Pre-Optometry
Minors: History and Chemistry
"I earned a research internship at Akron Children's Hospital during the summer between my sophomore and junior years. That summer I conducted research with the hospital's Medical Transport Director, neonatal intesnsivist Michael Bigham, M.D., and accumulated more than 65 hours shadowing in several other departments. I also had the opportunity to present my research at the National Collegiate Honors Conference (NCHC) in Atlanta in fall 2017. Following graduation from Walsh, I'll attend The Ohio State University College of Optometry where I'll pursue a doctoral degree in optometric medicine. I'm also considering obtaining a master's degree in vision science as well."