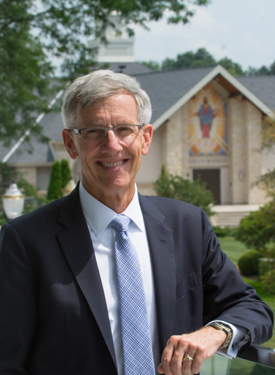 Since taking office as Walsh University President in August, Dr. Tim Collins has had the opportunity to engage with students, faculty and staff on campus as he ingrains himself in the Walsh community. Now, Walsh's seventh President looks forward to hitting the road and meeting alumni throughout the region and the country. 
Registration is required, as space is limited. Please complete the form below to reserve your spot!
For more information, please contact Director of Alumni Relations Stephanie Koontz at skoontz@walsh.edu or 330-244-4943. 
December
Washington D.C.
Wednesday, December 4 •  6:00-7:00 p.m.
Anti-Defamation League  (1100 Connecticut Ave. NW #1020 Washington, DC 20036)
Max Capacity: 30 alumni (hosted by George Selim '02)
Online
Wednesday, December 11  •  12:15-1:00 p.m.
Zoom Online Meeting
Join us online and share your valuable alumni insight from anywhere for a virtual conversation with Dr. Tim Collins. Meeting information will be sent upon registration
Chicago
Tuesday, December 17  •  5:30-6:30 p.m.
Beatrix Streeterville (671 N. St. Clair St. Chicago, IL 60611)
Max Capacity: 15 alumni
Sponsored by: