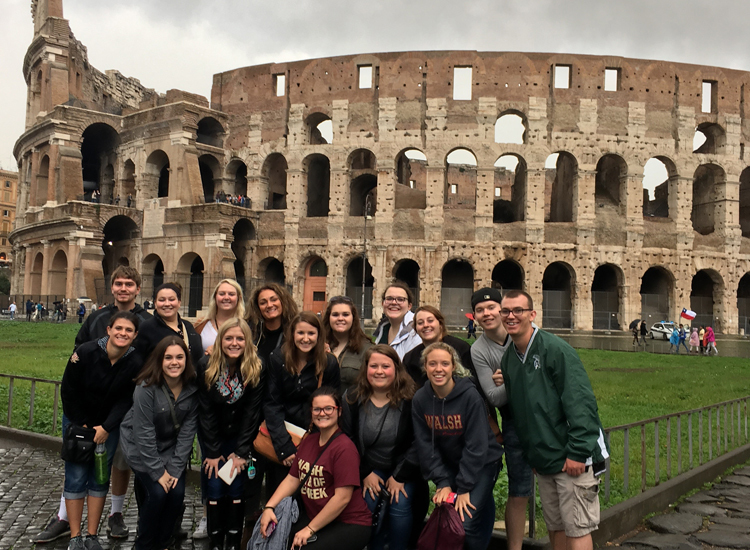 Education Students Connect Cultures in the Classroom
Last May, while visiting the Brothers of Christian Instruction in Alfred, Maine, Dr. Constance Argento-Smith was given some sunflower seeds from the Brothers' flower garden. In the fall, education students studying at Walsh's campus in Castel Gandolfo, Italy, created a lesson plan around those seeds. Working with a group of kindergartners from the nearby Vatican School, the group planted the Brothers' sunflower seeds from Maine in Italy to create a Global Garden for the enjoyment of the entire community. The sunflowers they planted will bloom to serve not only as a remembrance of Walsh's founders, but also as a visible reminder of the global connections we all share.
The 14 education students spent eight weeks on Walsh's Rome campus learning, serving, and teaching. The group consisted of sophomore education majors in all licensure areas, led by Dr. Smith, Associate Professor of Early Childhood Education.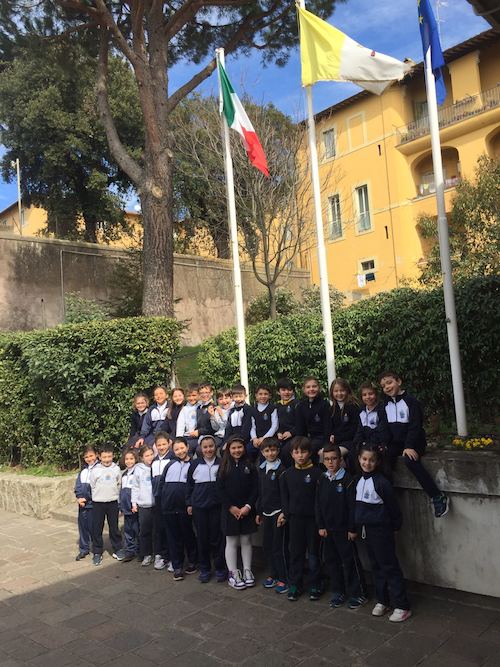 As part of their curriculum, Walsh teacher candidates traveled in small groups to visit several local schools where they taught lessons in their specific licensure areas. The group visited the Brothers of Christian Instruction School, Scuola Sant' Ivo, the Vatican School, Albano Laziale School District, the Maria Montessori School, the James Joyce School, and Reggio Emilia, a theory of teaching in Reggio Emilia, Italy. Overcoming language barriers, the Walsh teacher candidates were paired in partner schools where they created lessons plans and connected with the Italian students through shared content, music, games, and play.
"I gained confidence from this experience," explained Walsh sophomore Haley Talion. "I feel that if I could teach there, even with the language barrier, I can teach anywhere. And I know now that I would be able to handle my own classroom."
The schools were specifically chosen so that the Walsh students could observe a variety of teaching styles and garner hands-on, practical experience in numerous classroom settings.
"The teacher candidates connected culture, community, content, and service in each respective licensure area as they prepared and taught their lessons," said Dr. Smith. "The impact was a positive and mutual experience with both our partner schools and our future educators. The classroom experiences were rich and authentic. The experience was so impactful, that a few of our teacher candidates are now considering teaching abroad, possibly as a student teaching experience in the same schools they taught in this fall."
In addition to their busy schedule teaching over 32 lessons in schools in both Italy and Greece, the global scholars visited a total of 13 countries including Spain, Ireland, France, and England. Students who traveled to Germany and Poland learned from concentration camps and made connections with the stories of their own families and the camps they left behind.
A highpoint of the trip occurred in Greece. Dr. Smith and Early Childhood Intervention Specialist major KateLynn Calabretta were invited to present a lecture on diversity at the University School of Athens. Educators and school administrators from the Athens school districts attended the presentation.
"It was so inspiring as a future educator to see educators across the globe discussing and exchanging ideas to better promote learning in their classrooms," said Calabretta.
Walsh's educations students will have another upcoming opportunity to teach internationally. In May 2017, education professors Jennifer Green and Jennifer Webb will lead a two-week trip to Uruguay. This service-learning experience will again emphasize the legacy of Walsh's founders by allowing students to live out the Brothers of Christian Instruction's mission through service and teaching opportunities at the Brothers' Youth Center in Maldonado Nuevo.