Education Degree Program
For people who have a passion for learning, and would enjoy helping those in their formative educational years, the teaching profession is an excellent career path. Effective teachers look for the potential in all learners and find success in helping students succeed.
Walsh's education program is designed to nurture teacher candidates and empower them to serve their future students both in and out of the classroom. In addition, current educators can enhance their teaching credentials by pursuing an education endorsement or master's degree in education from Walsh.
NEW UNDERGRADUATE EDUCATION PROGRAMS
P-5 Elementary Licence- Now Available for Incoming Education Majors
All entering first-year Walsh University undergraduate students will be able to enroll in the new Elementary P-5 grade band licensure program to meet the needs of elementary school positions for Ohio and throughout the United States. Other states already offer P-5 programs; Ohio has now identified the need for this in the job market. Walsh University is one of the first in Ohio to offer this program.
The current Early Childhood Education (ECE P-3) program will no longer be available for incoming students.
Education Early Credentialing Program for Seniors
With recent reductions in undergraduate licensure credit requirements, qualified seniors will be able to begin taking graduate coursework the summer prior to their senior year and throughout their senior year to strengthen employability options. These additional courses will help them complete their graduation requirements and give them a head start to completion of graduate endorsement programs.
Walsh University endorsements include: Early Childhood 4-5; TESOL (Teaching English to Students of Other Languages), Technology/Computer, Reading Endorsement, and Teacher Leadership.
Endorsement courses are accelerated and delivered online, providing flexible scheduling for seniors completing their last year of courses and student teaching. They are offered in eight-week sessions which will allow seniors to take 1-2 courses each term of their fall and spring semesters.
Multiple school districts request new teachers to have coursework towards or completion of endorsements for hiring.

Chrissy Ramsey - Class of 2020
Major: Early Childhood Education
I love how I am able to really immerse myself in my major through field hours. Not only have I been able to study education in classrooms around Walsh but also in Uruguay. The summer after my sophomore year, I went on a Global Learning trip with the Education Department where I was able to spend time in different classrooms run by the Brothers of Christian Instruction. My trip taught me to look at the world with different eyes, to take in the beauty that God made and be appreciative of what I have while loving everyone around me.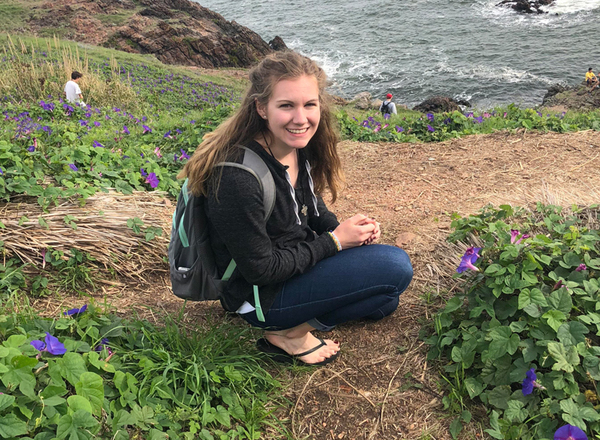 Rachel Hunt- Class of 2020
Major: Middle Childhood Education, Concentration in Mathematics and Language Arts with a Generalist Endorsement
Ever since I was in kindergarten, I wanted to be a teacher. The stumbling block in my way was that to be a teacher I had to attend college. I grew up in a rural community and, while my sister had gone to college, neither of my parents did and the thought still frightened me. As a first generation college student, I didn't know how the process worked, what to expect or what I would do if I couldn't go to college to be a teacher.
Why Walsh?
Multi-Faceted Approach.We built our program around three important principles: Judeo-Christian ideals, service learning and respect for diversity.
National Accreditation.Walsh's Teacher Preparation Program is accredited by the Council for the Accreditation of Educator Preparation (CAEP). Each licensure program also is nationally accredited by its Specialized Professional Association (SPA), which creates teaching standards for specific content areas and grade levels.
Carefully Sequenced Classroom Experiences. Structured field and technology experiences, beginning with the first education course, get our students in the classroom for meaningful engagement with educators and P-12 students.
Student Teaching. Our seniors stay in the same school system for both their pre-clinical and clinical experiences.
Grant and Scholarship Program. Walsh's Christ the Servant Teaching Corps provides an opportunity for qualified students to hone their teaching skills through an in-depth and rewarding on-site embedded residency.
Educational Best Practices. Students are exposed to a variety of teaching models, curriculum designs and diverse communities. This gives them a "toolbox" of best practice strategies they can draw from as a professional and allows them find solutions that are best suited for a particular setting and/or student.
Preparation for the Future. To provide our students with opportunities for service learning and field experience, we partner with community schools and programs. All of these experiences help build the knowledge and skills that students need as professionals in today's educational workforce. It also prepares them for Ohio's Resident Educator license and state examinations.
How does Walsh's program compare to other educator preparation programs in Ohio?
For information on Ohio Educator Performance Reports and Praxis II Licensure Data, please view Walsh's Teacher Education Performance Data webpage.