English Degree
An English degree program encompasses the different forms in which the English language appears over time in historical works as well as modern-day compositions, including literature, texts, poetry and film. Students in Walsh University's English program develop an understanding of the significance of the language, literature and writing in the liberal arts tradition. Each student's intellectual, cultural and aesthetic growth is enhanced in our English degree program, establishing a foundation for critical thinking along with written and oral communication skills.

Lori Cook - Class of 2019
Major: Professional Education and English
Being at Walsh is like a ripple effect. You are interested in one activity on campus and then it leads to another club, and another position, and as the ripples go out, doors open. If you ask one question, people are there with an answer. People will go above and beyond what you are looking for. I have encountered many ripple effects while at Walsh, but one of the biggest ones was becoming a Resident Assistant. As I met people within Student Affairs through Residence Life, I applied for a summer job with Student Affairs and found a whole new world of education that I did not know existed.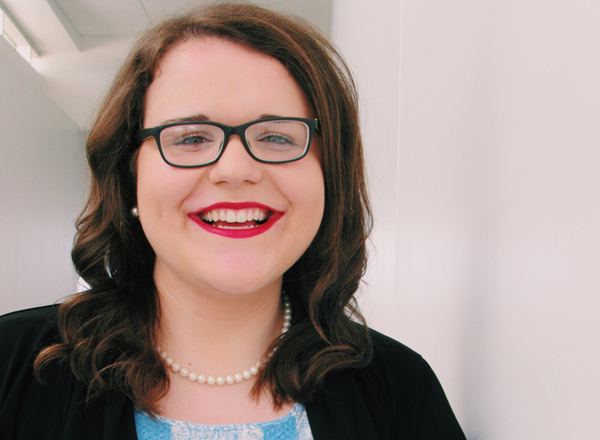 Megan Smith - Class of 2019
Majors: Professional Writing and Communications
Minors: Writing, Writing for Corporate Communication, English Literature
As a Professional Writing and Communications major, I really like how small the class sizes are. They provide individual attention and take time to critique my writing, which has helped me grow as a writer and prepare for a future career. The professors that I had my freshman year still remember my name and will stop to ask me how my poetry or book is doing. It is such a personal experience that I don't know if I would be able to get anywhere else. I was also drawn to Walsh because they had a Marching Band with a twirling line that I could join. Marching Band has given me a way to attach myself back home.
Why Walsh?
Personal Attention. Our class sizes are small, giving students more one-on-one attention from their instructors. Each student also is assigned an advisor and mentor for guidance throughout the undergraduate experience.
Selective Coursework. Because half of the program allows for student choice, students can tailor their studies to align with their particular interests and career goals, whether it's focusing on literature, growing deep roots in creative or professional writing, or learning how to gather and disseminate information efficiently and effectively. This flexible and individualized opportunity empowers students to choose the concentration that suits them best.
Additional Specialties. The program is intentionally small to allow students to pair an English major with a second major or a minor in a professional area, such as Marketing, Education, Communication, or Government and Foreign Affairs. Students can choose from numerous minors in the English program, as well.
Emphasis on Writing. Students must choose from courses in professional, technical, or creative writing. Instead of a literature focus, they also may develop an additional 15-hour concentration where they learn about the composing process and gain tutoring experience, study modern rhetoric, and develop the writing styles necessary for grant writing and careers in electronic and print media.
In addition, students have the option to enroll in Walsh's new 4+1 Program for non-business majors who would like to supplement their bachelor's degree with an MBA. Through the program, students simultaneously earn undergraduate and graduate credit for Walsh's MBA Prep Series courses, saving both time and money as students pursue their advanced degree.