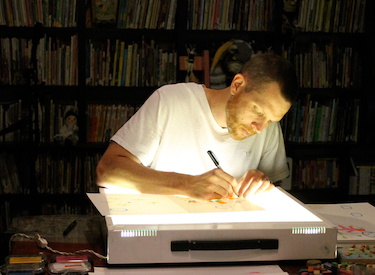 Eric VanRaepenbusch '00
Children's Author & Illustrator
---
Briefly describe what you do in your current role:
For the past 13 years, I enjoyed reading to my children so much that I started writing a blog and later my own children's books. I feel Walsh prepared me very well. One of my favorite classes was Children's Literature. I fell in love with picture books when Dr. Cindy Staudt introduced me to authors like Ezra Jack Keats. I still use the skills I learned in Walsh's education department when I visit schools for storytelling events and presentations about my books.
Recent professional accomplishments:
I taught Special education at Turkeyfoot Elementary School in Akron, Ohio, for three years and was honored with the Ohio's Technology Teacher of the Year award in 2003. I then served as a Technology Specialist for the Coventry Local Schools for two years before becoming a stay-at-home dad. In 2012, around the time my wife Walsh alumna Lisa (Zverloff) '00 had our fourth child, I wrote and illustrated the children's book series, Three Ghost Friends. I followed that series with the creation of four more books, Baby Beards!, More. MORE. MORE! Dandelions, Dodo: Silly bird. Silly name. Silly stories., and Five Little Potties: A Potty Training Memory Book. I am also the author of the Happy Birthday Author blog and a frequent guest speaker at schools, libraries and children's programs with fun, interactive presentations.
How did Walsh prepare you for your current job?
My most memorable experience at Walsh was working with the S.T.A.R.S. afterschool program at Skyline Terrace Apartments in Canton, Ohio. I learned the power of teamwork when the community, local high school students, and Walsh University students came together to create a positive learning and mentoring program. Beyond my memories of the S.T.A.R.S. afterschool program, I have many great memories of Circle K, Residence Life, volunteering at a soup kitchen, reading at Mass on Sunday, and more.