Father Matthew Herttna Counseling Center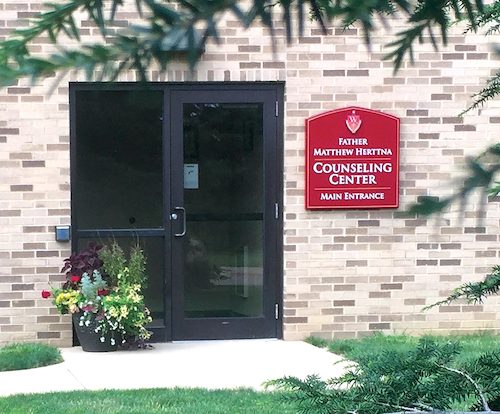 The Father Matthew Herttna Counseling Center is an educational and training facility on the Walsh University campus that invites local community members to explore options for counseling services. Its purpose is to provide mental health counseling and referrals to the community and to serve as a training center for students, faculty and supervisors.
What is offered?
Individual counseling for children, adolescents and adults
Family counseling
Group counseling (based upon need)
Career counseling
Who operates the center?
The Fr. Matthew Herttna Counseling Center is part of Walsh University's School of Behavioral and Health Sciences. The center is staffed by a full-time director, professional support staff and graduate students.
It's overseen by:
Dr. Penny Bove – Associate Dean, School of Behavioral and Health Sciences
Dr. Ruthann Anderson – Counseling and Human Development Graduate Program Director
Sabina Alasti-Ward, M.Ed., LPCC-S – Site Director
Are they experienced?
Yes!
Our staff has more than 50 years combined experience in areas of counseling, social work, family studies, substance abuse, couple/family therapy, psychological assessment and mental health counselor training and supervision.
What about the training aspect?
Student counselors are senior-level grad students in the Counseling & Human Development program. Students undergo frequent group supervision, individual supervision and close monitoring and observation.
Who can call or visit?
Anyone from the Greater Stark County Community, regardless of income. HCC staff will give priority of services to individuals and families that may have experienced difficulty in receiving services due to circumstances such as financial, insurance or meeting criteria for services.
How much does it cost?
Fees are suggested on a sliding donation scale based on your individual circumstances. You would not be turned away for inability to donate.
What's the next step?
Call (330) 490-7248 or e-mail fmhcc@walsh.edu for more information.
Let us know how we can assist.
Answer a few initial questions to help us determine how we can best meet your needs.
Schedule an appointment or let us connect you with someone better able to assist you.
As the director and chaplain of the St. Dymphna Shrine, honoring the patron saint of mental health, Father Matthew Herttna dedicated his life to the spiritual healing of those afflicted with mental health issues. In honor of his life's work and as an outreach of Walsh's mission to educate students to become leaders in service to others, the Father Matthew Herttna Counseling Center was formally dedicated in 2009 and opened in 2010.