Student Affairs in Higher Education New Ugandan Collaboration Enhances Cultural Exchange
This summer, coursework took on a more tangible meaning for Walsh graduate student Natalie Ridgway, who traveled to Gulu, Uganda, and helped to organize the first Student Affairs in Higher Education (SAHE) workshop for faculty and administrators at the University of the Sacred Heart. Led by Walsh Assistant Professor Henrique Alvim, Ph.D., Ridgway co-facilitated a two-and-a-half-day workshop designed specifically to address the challenges facing the faculty, administration and students in the Archdiocese of Gulu.
"The Counseling and Human Development Global Learning Program has traditionally been for counseling students but this year, for the first time, it was opened up to SAHE students as well," said Ridgway. "I love to travel and immediately said 'sign me up!' We were there for ten days and coordinated a two-and-a-half-day workshop for the University of the Sacred Heart faculty and staff. As a new university that just welcomed its first students this year, they are in the process of establishing their role in the community and in the lives of their students."
Since 2010, Walsh University Counseling and Human Development program has been traveling to northern Uganda for study, research, service, and the sharing of culture. Each year, graduate counseling students and faculty members facilitate workshops to help develop the skills of Ugandan paraprofessionals (i.e., counselors, counselors in training, nurses, priests, teachers) to better serve the Ugandan people recovering from the traumas of war.
Northern Uganda suffered greatly in a civil war of over twenty years, and has been involved in the process of healing since 2006. Walsh University has been working in collaboration with Northern Uganda to create sustainable solutions to the post-war issues facing the country's citizens.
The University of the Sacred Heart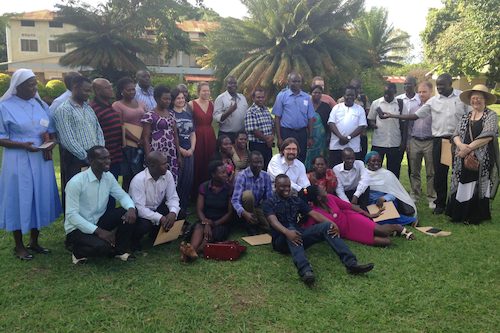 In addition to the counseling training workshops each year, Walsh administration has worked with the Archdiocese of Gulu in the establishment of the area's first Catholic higher education institution. One of the first degrees offered by the University of the Sacred Heart is a Bachelor's degree in Counseling Psychology. This degree prepares counselors to serve the needs of the region as well as prepare students for critical reflection and action for societal changes.
This year's Counseling and Human Development trip was expanded to include the Student Affairs specialty. Also a part of The School of Behavioral and Health Sciences, the Student Affairs in Higher Education track (within the Counseling and Human Development program) integrates counseling theory and practice, student development theories, higher education administration, and student services programming with a specialized focus on multicultural affairs and diversity education. Walsh is one of only two SAHE graduate programs in the State of Ohio with a Counseling and Human Development foundation.
"The workshops we created actually became a part of Natalie's classwork for the course 'Higher Education in a Cross-Cultural Context' which explores the challenges and opportunities for higher education in an international setting," said Dr. Alvim. "We really wanted to build these sessions in a truly collaborative fashion. We conducted several Skype meetings with Sacred Heart administrators preceding our visit to hone in on their ideas. The purpose was to stimulate conversation with topics that interested them. After all, they're the experts of their own university and understand the particular needs of their students."
The workshop was designed around the theme of "Enhancing Quality in Higher Education" with both Dr. Alvim and Ridgway co-presenting on various topics including the role of higher education in society and critical thinking.
"We didn't know what to expect and were surprised by the turnout. We had nearly 25 people attend each session. We planned the workshops from scratch based on what they wanted to learn. But ultimately, we wanted to learn from them as well, especially about how the education system operates in Uganda," said Ridgway. "The whole experience was a paradox in some ways. Some people in Gulu live in huts with no water, but everyone has a cell phone. Everyone has a solar panel to charge that cell phone. Many have no running water, but they have 2G and watch YouTube videos. Ugandans are progressing, but not in the way you would expect."
Rather than coming in to try and solve problems, Walsh has been working in collaboration to empower and train the people of Uganda so that they can sustain their programs independently into the future.
"We went to Uganda with the purpose to inspire conversation and exchange ideas. Our hope is that we continue this partnership in years to come," said Dr. Alvim. "From the feedback we received from workshop participants, and from our own perspective, I can say this experience was very informative and truly transformative for us all."