St. Andrew House of Vocation Discernment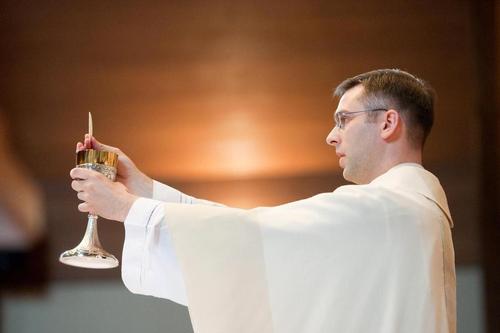 St. Andrew House of Vocation Discernment is a residence–not a seminary–for college-age men who are discerning their life's vocational calling, with a strong inclination towards the priesthood. Is God calling you to consider priesthood, or is he calling you to marriage and family life? What does God want for you and your life? Much like the first disciples of Christ, the St. Andrew House of Vocation Discernment gives you the opportunity to discern, to pray, to come and see.
The result of a partnership between the Diocese of Youngstown and Walsh University, The House of Vocation Discernment is located on campus in La Mennais Hall and can house up to five men. Set up much like an individual floor in a residence hall, the St. Andrew House has a prayer chapel and a common area that includes a kitchenette and living room. Each member of the House has his own two-room suite and access to laundry facilities. Residents will fully participate in all facets of University life while living in a community environment that will nourish individual spirituality.
Spiritual Life
A man who resides in the House of Vocation Discernment is asked to give total consideration to his vocational path. To aid him in that journey, House residents are expected to participate in:
Daily Mass
Common prayer, devotions and conferences with members of the House community
Meet at least monthly with a spiritual director
Service to Walsh University and surrounding communities
Academic Requirements
Members of the House are free to pursue any major, although are strongly encouraged to pursue a bachelor's degree in Theology or Philosophy in the event that they make the decision to enter into a seminary program. At a minimum, residents are to pursue a minor in Philosophy.
Qualifications for Candidates
The St. Andrew House of Vocation Discernment is NOT a seminary but a place where a young man can thoughtfully consider his life's path. Men who would like to be considered for residence in the House should be a baptized, confirmed and practicing Roman Catholic with the following qualifications:
Faith in and love for Christ and a willingness to serve His Church
Age 18 by September 30 of the admission year with a high school diploma or G.E.D. and positive academic abilities
Accepted to Walsh University as a full-time student for the semester in which the student is entering the House
Good moral character
Candidates should be in good physical health and emotionally balanced with a psychological readiness and the capacity to pursue a sustaining, life-long commitment, whatever that may be
Freedom to enter this state in life, meaning that the individual is not married, not previously married without the benefit of an annulment, not professed to a religious order or another diocese, and has no children under the age of 18
A registered and active member of a parish within the Diocese of Youngstown
Who is St. Andrew?
Andrew was a fisherman just like his brother, Simon Peter and the first disciple called by Christ to come and see. Jesus called the brothers to leave everything and become his disciples and "fishers of men." According to the Gospels, Andrew was present for some of Jesus' most significant occasions. St. Andrew is the patron saint of many countries including Scotland, Russia and Greece in addition to fishermen, fishmongers and rope makers. His feast day is November 30.
Financial Structure
Beyond the standard tuition and room and board, there are no extra fees associated with living in the House. Incentives are available for the House residents.
For more information, visit us on Facebook or contact Fr. Christopher Luoni, Diocese of Youngstown Vocation Office, 330-744-8451 or cluoni@youngstowndiocese.org.