Loose shoes and Olympic ties on Walsh's first track team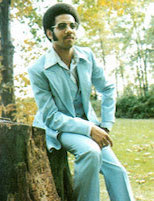 Jerry Armstrong - Class of 1977
I can remember it as if it was yesterday… and I still smile. I was rounding the turn in the 200 meters and I could feel my shoe start to loosen. It's one of those things a runner is never prepared for. What do you do? Stop and retie your shoe or finish the race? I wasn't about to let the guy next to me win. I could see the finish line up ahead and decided to hope for the best. With another step my shoe came flying off. I remember hoping that it wouldn't hit anyone in the head as I went on to win the race - with only my right shoe. There's even a photo of me, though not very clear, completing my one shoe victory.
That had to be one of my favorite track memories but there are a lot more. First of all, I never intended to compete in track and field after high school. But when I was a junior at Walsh and heard they were starting a new program, I thought I'd check it out. When I heard who the coach would be, I was sold! That is how in 1976, I found myself on the first Walsh track team being coached by 1972 Olympic US Gold Medalist, Dave Wottle.
Everyone knew who Dave Wottle was back then, not just track and field fans. He competed in the 1972 Olympic Games and dramatically came from last place to win the gold medal in the 800 meters. Dave was best known for always wearing a golf cap while he ran. He said it kept the hair out of his eyes but it quickly became his trade mark. During the very emotional 1972 Munich Olympics, he became an American icon along with Mark Spitz, the famous swimmer. Unfortunately, he is also best known for accidentally leaving his signature hat on during the National Anthem - some folks thought it was an intentional slam on the US. He'll tell you that he was so used to wearing it all the time that he forgot it was even on his head in all of the excitement. He was a humble man though and rarely boasted about his accomplishments or the fact that he was friends with the likes of legendary runner Steve Prefontaine.
Coach Wottle had also started the first Walsh Cross Country team the year before, so he was a familiar face on campus. My senior year, I was proud to be a co-captain along with Ed Rhodes. The first Walsh track team was small with only about 10 of us who had been runners in high school. We only competed maybe three times that first year but came back in our second full season with a winning record… and a lot more teammates. Both Coach Wottle and I left Walsh after that second season --I graduated and he went on to coach at Bethany College. Over the years I've been proud to watch the track program grow and develop, along with the rest of the campus, since I graduated in 1977.