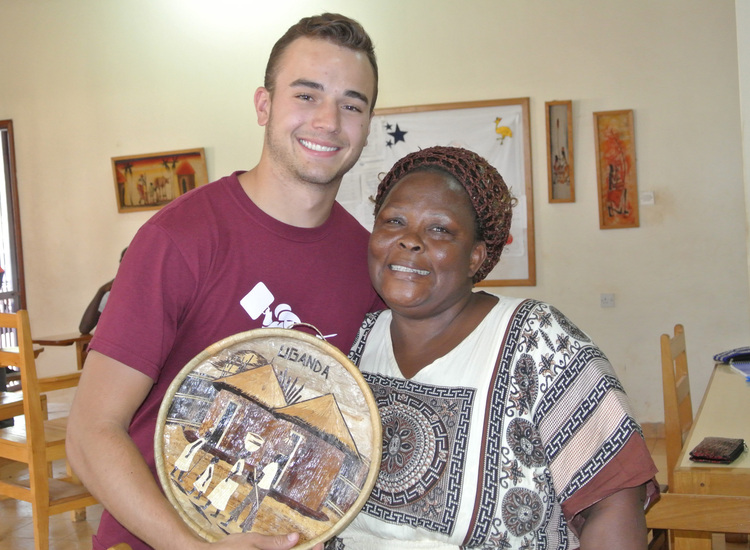 Ziika Microfinance Project Marks Five Years of Empowering Women in Uganda
For more than five years, Drs. Penny Bove and Jo Anna Kelly have been building on their investment in Uganda. Not a financial investment, but a personal commitment to improve the lives, families and financial resources for women in the Ugandan village of Ziika.
"Through Walsh's partnership with the Kisubi Brothers University College in Uganda, we had the opportunity to meet the women in the nearby village of Ziika," said Penny Bove, Ph.D., Chair, Division of Social & Behavioral Sciences and Professor of Sociology. "Our interactions led to the formation of the Ziika Microfinance Project to create sustainable, income-producing businesses for the women living in Ziika to better support their families."
The Ziika Village, with a population of 22,000 people, is located within a short distance of the University of Kisubi (formerly Kisubi Brothers University College) campus. Working closely with Walsh's existing Ugandan connections, the Ziika microfinance service project was created to provide modest loans to women hoping to start and run their own businesses. To date, the project has provided 22 loans with a 96 percent repayment rate.
"What we saw was untapped potential," said Jo Anna Kelly, Ph.D., Vice Chair, Division of Social and Behavioral Sciences and Professor of Sociology. "When we were in Ziika, we met these very bright women who had creative business ideas and the drive to succeed, but lacked the capital to start or sustain them."
After an initial assessment phase that began in 2010, the Ziika Microfinance Project awarded its first loans in May 2012 to eight women who had successfully developed business plans and completed formal loan applications to start or grow their own businesses.
The six-month loans have ranged from between $50 to $810 (U.S.) per person depending on an individual's need, type of business, ability to repay the loan and projected business outcomes. Businesses have included brick making, a retail shop for essential commodities such as sugar and salt, selling vegetable plants, catering, tailoring, crafts, a nursery school, selling charcoal and chicken broilers.
"Without possessions, they have little to use in the form of collateral, so instead we are utilizing a system that is relevant to their culture," said Dr. Kelly. "The group works as a team to repay their loans. With a waiting list of participants, they know that as a group, if they don't pay their loans back, they will place the next group in jeopardy to receive a loan. They are strongly committed to helping each other succeed."
While in North Canton, Drs. Bove and Kelly work closely with Uganda Program Coordinator and Walsh alumnus Javilla Guma from the University of Kisubi. Outreach has included yearly visits and collaborative programs with Walsh undergraduate students participating in the Ugandan Global Learning Program and Walsh's Master of Arts in Education (MAED) students studying at the Kisubi campus.
With the goal of empowering the women as one of the key component of the program, Drs. Bove and Kelly successfully transitioned the daily maintenance of the microfinance project to the women of ZWIDA (Ziika Women's Integrative Development Association). In 2012, the leaders of ZWIDA were required to train as Financial Literacy Education leaders, maintain a ZWIDA active bank account, collect weekly loan repayments, record band deposits, scan monthly bank statements and oversee successful repayment of the loans.
"The women started to realize that instead of just randomly borrowing money to live and then struggling to repay it, if they used that money to start a business, they would actually get ahead in life and no longer need to borrow high-interest loans," said Dr. Bove. "But it didn't set in until they actually experienced it with the microfinance loans. I think they've been very good stewards of the money with this project. It means a lot to them and their integrity is very high."
Walsh students have been involved in the program from the very beginning with the initial program assessments in 2010. During the past five years, Walsh students have participated in the cross-cultural experience with the Ziika women and University of Kisubi students that have included facilitating a business planning workshop, data collection to determine how the loans were progressing and the Passport for Success program with the daughters of the Ziika women.
In 2014, the Ziika women taught the Walsh students about their businesses with activities such as craft and brick making. Most recently in July 2015, the Walsh students reciprocated by teaching the Ziika women and their children how to use mobile tablets donated by Walsh faculty members. The students put together a program on how to use the technology that included built-in English and math literacy programs.
"The women were thrilled with the tablets, and even more so, with the solar power panels that we bought for them to charge their devices," said Dr. Kelly. "Electricity is something we take for granted. We found a good deal on Amazon for some solar panel chargers without fully realizing the impact this gift would have on their daily lives. Because land lines are unreliable in Ziika, the women rely on their cell phones for communication. To charge them, they have to go somewhere to find electricity and then wait as they charge. The added benefit with the panels is that they are able to charge their phones right at home."
The next phase of the loan program will include creating academic scholarships for the Ziika women's daughters. The scholarship program is in planning while the microfinance loans continue.
"We are in the process of finalizing an application process for some of the daughters who would like to attend school in Kisubi," said Dr. Bove. "We will also focus on opportunities to expand our literacy program with the women to teach them basic math skills and English."
The women have continued to grow in their financial roles and recently founded their own welfare group to support each other in times of unforeseen hardship, emergency or family member loss. In a recent interview, Ziika participant Agnes Mutagubya who supports herself and her family with a gift and retail shop, commented:
"So it entered into their heads, they have to get a business, you have to get something to do. Even if it is small, then you are doing something. We had something which kept us together. Thank you for your kindness, the generosity for thinking of us, we are grateful. We want to help our children as they grow, so they can stay in this program. So you at Walsh and the Ziika women, with the University of Kisubi, can continue together and grow."
To learn more about the Ziika project, click here.