If I had to do it again, I would do it exactly the same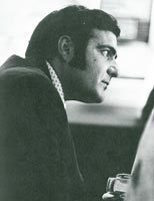 Joe Ezzie - Class of 1965
It was probably the best accident in history. I came to the U.S. on vacation from Lebanon to visit my aunts. While visiting, my cousin told me there was a new college in town. He knew that my dream was to continue to pursue my education, specifically, in the U.S. My concern was that I didn't speak English. My education in Lebanon was in French. But my cousin told me that there are Brothers at Walsh from Canada and I should go and simply meet them. So I went and met Br. Robert Francoeur who was the dean at the time, and we communicated right away in French. He was so persuasive that I ended up enrolling at Walsh College. The Brothers on campus all spoke French at the time so I felt like I could connect. I felt welcome. I was the only international student on campus then. The Brothers became like parents to me. They were also friends and mentors, specifically Br. Robert and Br. Dacian Barrette. These names, to the average person at Walsh now, make you think of buildings - Farrell Hall, Barrette Center. To me though, they are human beings who shaped my life and shaped my future.
When I graduated from Walsh in 1965, I went to the Catholic University of America to pursue my graduate degree. One evening, I was sitting with a friend of mine at Catholic University and the phone rang. It was Br. Robert. He said, "Congratulations." I said, "On what?" He said, "I heard you passed your Ph. D comprehensive. I've been following your career since you left Walsh." And I paused for a few seconds on the phone. I was in tears. He said, "By the way, would you do us the honor of coming back to Walsh to teach for us?"
I was very honored and I felt like I owed the Brothers who had helped me so much in my life. So I figured I would go back to Walsh and teach a couple years and see what happens. A couple of years turned into 41. Their mission became my mission. I enjoy teaching here a lot. I enjoy education. Walsh shaped who I am. I enjoyed this place in college and now I enjoy it as a university from a professor point-of-view. It's a wonderful place to be with a wonderful administration and great opportunities. I've made it my career. If I had to do it again, I would do it exactly the same.