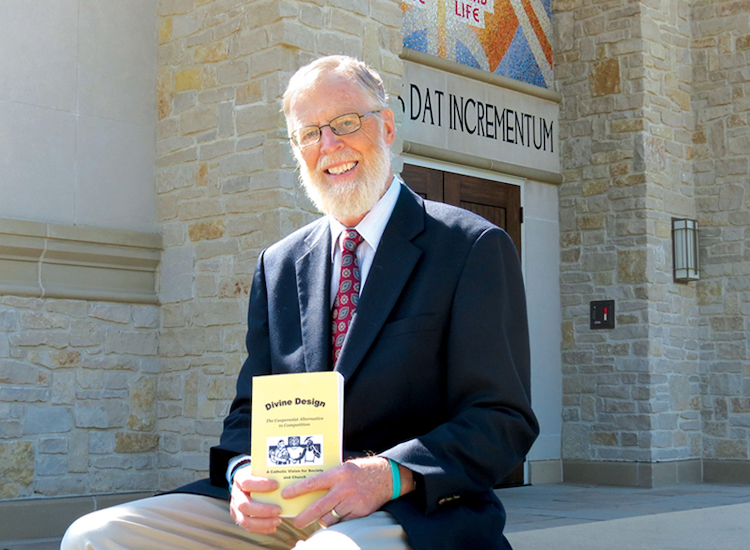 New Book Explores God's 'Divine Design' as an Alternative to a Competitive Society
A recently published book by Walsh Professor of Theology Joseph Torma, Ph.D., has the potential to not only enlighten minds, but also change the way in which our society functions. In fact, its premise could literally change the world.
The foundation of Dr. Torma's new book Divine Design: The Cooperatist Alternative to Competition. A Catholic Vision for Society and Church, was inspired more than 5o years ago by his experience working as a counselor in a school for delinquent boys.
"I've always been interested in issues of social justice. Working in the group home, I observed firsthand how social conditions can have an effect on individuals," said Dr. Torma. "These students would come with varied discipline records, but within a few weeks in the home, their behavior would change significantly and for the better. I learned that it is the structures in which we live that create who we are as much as anything else. I then began to be concerned about the existing structures of our society and how they shape us as a community."
Oliver House Publishing, Inc., a Christian-based publishing house of Stark County writers and stories, sold out of its first run of the book, which explores two fundamentally different options for organizing society-- competition or cooperation.
"If you are going to have the human species survive, there are basically two ways to do it. You can do it the normal way by encouraging competition, which is survival of the strongest," said Dr. Torma. "Or you can organize society in a way that, instead of eliminating the weak members, uses the strengths of each person to compensate for the weaknesses of each person."
Dr. Torma believes that it is God's will that society is organized in a cooperatist way. And this belief is not assigned to any one religion.
"I'm working from a Catholic tradition, but every Christian denomination uses the Lord's Prayer. That prayer begins with 'Our Father' which means that we are all brothers and sisters. The structure in which parents and children live is called a family. And family has to be organized in a cooperative way. We would never organize it in a competitive way," said Dr. Torma. "I see that as God's design for us. The fact that we are organizing in a competitive way is actually in direct opposition to the Divine Design."
Through his research, Dr. Torma supports this belief through several examples that emphasize how a community can not only survive, but thrive, in a cooperatist society.
One example is the Mondragon Cooperative Corporation in the Basque region of Spain. Mondragon is one of the leading Spanish business groups, integrating more than 80 autonomous and independent cooperatives. Mondragon Cooperative Corporation is the embodiment of the cooperative movement and was founded in 1956 by a Catholic priest, Father José María Arizmendiarrieta.
"Mondragon is a cooperation of businesses that don't compete against each other because the workers own the businesses. This shows that you don't have to maximize profits and therefore victimize the workers if the workers are also the owners. This system is based on Catholic cooperative teaching."
The second example of a cooperatist society is the Jesuit Republic of Paraguay, about which only five books have been written in English. Dr. Torma cites this historical event as one that is almost totally unknown, but supports the coopertatist movement he proposes.
"For about 150 years, from 1615 to about 1765, the Jesuit Republic of Paraguay was organized as a cooperative society in the middle of the Amazon Jungle. It was home to more than 100,000 people," said Dr. Torma. "Ultimately, it was considered too successful, and because of the threat of its continued existence to the Spanish Monarchy, the society was eventually destroyed."
The book finishes by describing how the Church can implement an apostolate of cooperation in all of the aspects of its mission: organizing itself as a community to demonstrate cooperation, explaining how society can convert to cooperation, initiating activities that help society do this and developing spiritual and educational programs that promote this mission.
Though he enjoyed success with the first run of his book, Dr. Torma describes his new book as an important one, but doesn't expect it to be popular. That's because Divine Design is calling people to do something that is counter to the culture in which we live.
"That's why the aspects of this book are very important. I don't just talk about the fundamental options for survival, competitism or cooperatism, but I talk about how the Catholic tradition advocates very clearly for the cooperatist option. I also seriously address the fact that people will say that this is a great ideal, but it can't be implemented in a competitive world. I think we have to hold ourselves accountable to living according to God's will."
For a copy of the book Divine Design: The Cooperatist Alternative to Competition. A Catholic Vision for Society and Church, visit the Walsh bookstore or contact Oliver House Publishing, Inc., at 330-458-9445.