The Road to Walsh began in Uganda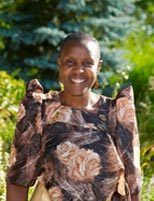 Juliana Tasule - Class of 2009
The first day I walked into St. Mary's College in Kisubi in 1989, I felt very proud. The Brothers of Christian Instruction hired me and I was one of the first single women to teach at the all boy's boarding school. Now it is a normal thing to have ladies teaching there.
I am a teacher, but in my heart, a student. I worked for 10 years and then went for my bachelors. After seven years at St. Mary's…that is when I first heard of the Walsh University, the college the Brothers founded in the United States.
I love teaching but I have always wanted to learn. I want to be more…to be better… education is a way to be better. I would say to the Brothers "Brothers, why don't you collect us. When will you start a University? When will you bring a course here?" In fact, I would tell them "even if you bring one for medicine I will do it." Finally they came to me and said "we are starting a Walsh program here in Uganda."
So when it came, you see why I was so interested. That is why I was the first to arrive at registration and the first to sign up! I registered and I was admitted. Visiting Walsh University in North Canton this fall, I have found that the teaching is the same, you must participate in class because in life you need to learn to interact. The syllabus is the same. Even the assignments are the same. So I thank them. We are learning exactly what the students here are learning. Now this October, I will be one of the first to graduate from Walsh University's Uganda MAED program.
I will remain teaching now that I have my MA and will use my skills to become a better teacher. We have small businesses to manage as well with a bakery and bridal shop. I will also do some vocational work. But I will always teach because I love to teach.
Now that I earned my MAED, I want to pursue my Ph.D. The youngest of my eight siblings lives in Chicago and already has her Ph.D. I told her "it was because of you people I had to remain behind a bit. "I worked and they went to school. But see…now I'm catching up.
---
Juliana was the first Ugandan student to register for the MAED program in Kisubi. She has successfully completed all the requirements for the program and she will be in the "pioneer" group of Walsh graduates from the Ugandan campus at Kisubi on October 2nd.