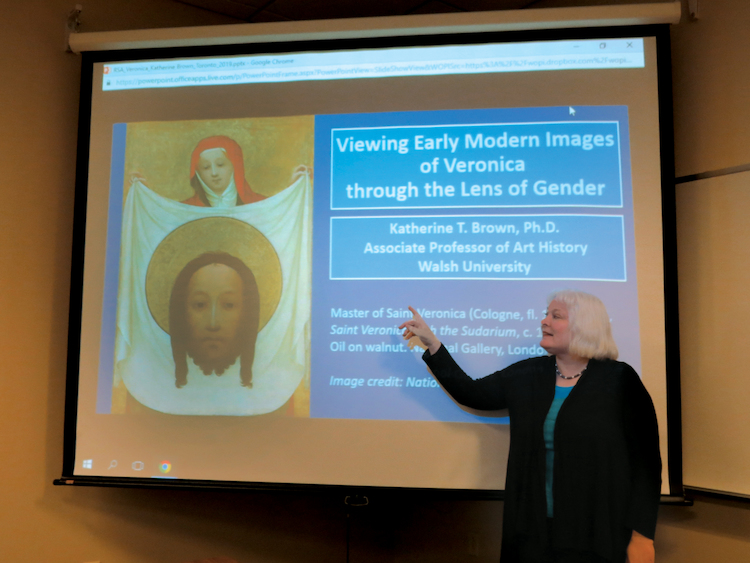 Dr. Katherine Brown Accepted as Visiting Scholar to the American Academy of Rome
Walsh University Director of Museum Studies and Associate Professor of Art History, Katherine T. Brown, Ph.D., has been accepted as a Visiting Scholar to the prestigious American Academy of Rome in June 2019. The purpose of Dr. Brown's two-week residency will be to continue researching and writing her current book project, The Legend of Veronica in Early Modern Art, forthcoming in 2020 from Routledge.
"I've always wanted to study at the American Academy of Rome. I've been up there and walked
around several times. But researching there as a visiting scholar has always been a dream of mine," said Dr. Brown. "My new book manuscript is due in December, so the timing worked out. Part of what I want to do is to retrace one of the routes through Rome where the Veronica relic was processed by Pope Innocent III in the 13th century. I can use the libraries at the American Academy, take photographs in the city, and have some concentrated time to focus on writing."
The American Academy in Rome, founded in 1894, is a leading American overseas center for independent studies and advanced research in the fine arts and humanities. Located atop the Janiculum Hill with panoramic views of the city, the Academy supports innovative artists, writers, and scholars living and working together in a dynamic international community. The community includes Fellows, Residents, and Visiting Artists and Scholars.
"The representation of female saints in Early Modern works of art has always interested me," said Dr. Brown. "I'm fascinated especially by the portrayal of Veronica, as she is a personification of her relic who was added as the Sixth Station of the Cross by the fourteenth century. Among the goals of the book are to explore how, when, and why."
Dr. Brown's previous book, Mary of Mercy: Devotional Image and Civic Emblem, was also published by Routledge in 2017. Her first book, The Painter's Reflection: Self-portraiture in Renaissance Venice, was published in Florence by Leo S. Olschki Press in 2000. Dr. Brown, who has taught at Walsh since Fall 2011, received the Faculty Research Award in 2018.