Division of Language and Letters
Programs build on Walsh's liberal arts core curriculum with an emphasis on effective oral and written communication.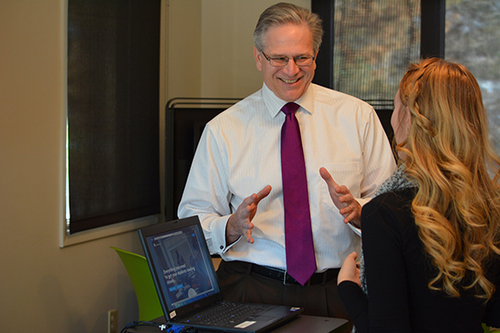 Do you have a passion for language? Do you want to work as a language educator or in a field that requires excellent writing skills? Perhaps you want to explore working internationally, or with a domestic company that has global partners. In all of these cases, a major or minor in English, Spanish or French can provide the foundation.
In the liberal arts tradition, the Walsh University Languages & Letters Division stresses critical thinking with an emphasis on the significance of language, literature and writing. With this as the basis for instruction, we weave in critical skills for today's careers.

Division Highlights
We offer majors in the following areas of study:
English
There are two options for the English major:
General English major with an emphasis on literature and composition studies.
Adolescent/ Young Adults-Language Arts major that prepares students interested in becoming English teachers for work in grades 7-12.
In addition, Walsh offers a variety of language minors that complement numerous major fields of study.

Educational and Experiential Opportunities
We provide an experienced faculty and a mentoring environment, both inside and outside of the classroom. Extra-curricular programs, clubs, internships and work experiences round out our course of study.
Community Language Clubs
Literary Society
Writing Center Tutor
Writing Fellowship
Independent Studies in Creative Writing