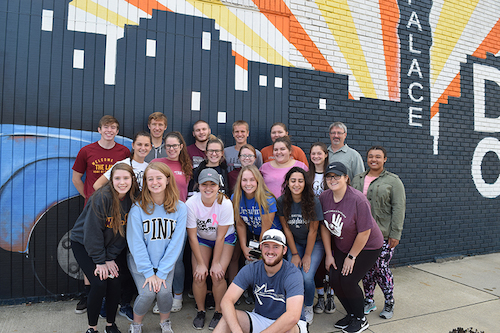 This four-year scholarship program is designed to foster change-makers in the community and leaders in service to others.  It is a learning community of residential and commuter students who have a passion for making the world a better place for all by questioning and challenging social inequality.
What do the Leaders in Social Justice do?
Take classes with other Leaders in Social Justice to develop leadership skills
Serve with other Leaders in Social Justice  tutoring inner-city and migrant children, assisting with the homeless census, helping with Habitat for Humanity, participating in the coalition against domestic violence and human trafficking, and other sites to be announced
Travel to enrich their knowledge about social advocacy and to engage in civic service (Possible sites include the Holocaust Museum, Native American Museum, Southern Poverty Law Center, National Underground Railroad Freedom Center, Heifer Ranch, Carter Center and other outreach sites)
Think globally, act locally
What are the benefits of becoming a Leader in Social Justice?
$2,000 renewable scholarship
Travel assistance 
Priority registration and advising
Certificate of distinction at graduation 
Expanded leadership, critical thinking, problem solving, communication and intercultural competencies
What is involved?
10 credit hours (fulfills SL, H2B, and H3 requirements)
Orientation
Leadership Retreat
 Immersion Program
May Experiential Trip (7-10 days)
Social Justice conference(s)
Leadership/Fellowship Position
Career Workshop
Eligibility Requirements
Minimum 3.0 GPA
Application (includes essay and interview)
Open to all majors, both residential and commuter students
Ready to Take the Next Step?
Complete the form below to request additional information.