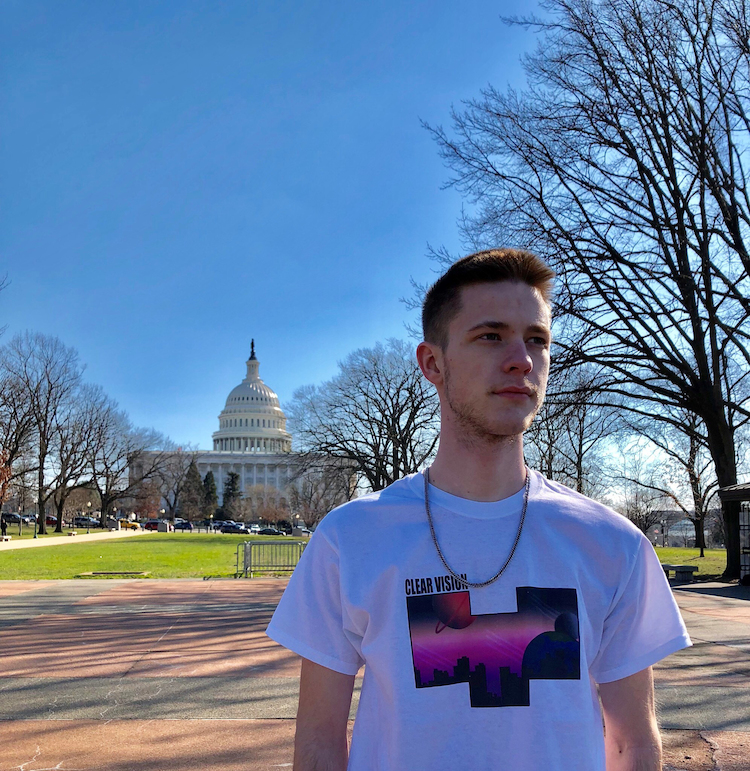 D.C. Internship Teaches Walsh Senior to Get Comfortable with being Uncomfortable
Walsh senior James Warnken is an entrepreneur at heart. His clothing business, ClearVisionClothing.com, has a solid following and, with a year to go before graduation, he is already building his own career as a search engine optimization (SEO) and marketing freelancer. By making the most of every opportunity that comes his way, James spent his spring semester in Washington, D.C., interning at a cybersecurity company and taking supplemental classes at The Washington Center. In his free time, he loves to skateboard.
James is also legally blind.
"My vision was fine until I was 9 years old and it started to deteriorate. I was diagnosed with Genetic Retinal Dystrophy," said James. "When I was younger, I was shy. But as I've gotten older, I realized you can't be afraid to go for what you want. I missed out on a lot of opportunities because I was afraid. But now, I even skateboard with a visual disability. I try to remember that I'm a role model for my younger brother, who has the same condition. I'm trying to show him that nothing can stop you."
When James learned there was a possible internship opening in Washington, D.C., he knew he wanted to go for it. He met with the Washington Center representative on campus, and after several interviews by phone, he was accepted for the start of spring semester. The Washington Center is the largest and most established student internship program in Washington, D.C., providing immersive internships and academic seminars for students and young professionals from across the U.S. and more than 25 countries.
"Everything just fell into place and, by the end of January, I was in D.C.," said James. "My biggest challenge was learning to navigate the metro for my 40-minute commute to my internship in Arlington, Virginia. The first day, I took an Uber and then I met a fellow intern who rode with me until I had it down to go alone."
During his time in D.C., James interned 30 hours per week with Adlumin and took two Washington Center classes, Non-Profit Leadership Management and Professional Behavior and Communications. Adlumin cybersecurity is a start-up company founded in 2016. As an intern, James helped the company develop an online presence and was responsible for helping to drive traffic to their website.
"Adlumin focuses on business-to-business marketing, which was a great opportunity to expand my professional experience," said James. "I was interested to learn that there are very strict guidelines for the business-to-business field. Adlumin provided an excellent training ground for me to expand my knowledge and skills, and my manager really encouraged me to pursue online professional development opportunities. It's something I've been continuing since I got home. When you work with the internet, it's important to keep up to date, especially when things change so rapidly."
It was through one of the webinars that James made a connection with a small business owner in New Mexico. He is currently helping him to develop an online presence and, along with three additional clients, continues to build his business as a freelancer in SEO marketing.
"The biggest lesson I learned in D.C. was 'get comfortable with being uncomfortable,'" said James. "The Washington Center courses and faculty required us to attend networking events and encouraged us to be involved outside of the classroom. They really inspired us to push our own boundaries."
Through his communications course, James was also asked to share his story at an Arthritis Foundation national conference for students from all over the country. The attendees, aged 13-17, represented students with disabilities, specifically arthritis. Afterwards, James met with several of the students to talk about the benefits of a small college environment and the ways in which Walsh and the University's Office of Accessibility Services have supported him on campus.
"I described Walsh as student-centered and very supportive of my disability. I've never had any problems like you would in high school. Here, I'm treated as an adult," said James. "When I was told my IEP would be gone when I got to college, I knew I needed to find someone to help steer me in the right direction. All of my professors have been very helpful and Meredith Soduk in Accessibility Services has helped to guide me. Communication is key. I've learned how to advocate for myself and ask for what I need."
James relies on technology in the classroom to help him see. With an iPad or computer, he is able to enhance the font size and adjust the contrast so that the text is at a readable level. Professors also send slides and notes to him ahead of time so that he can prepare and follow along in class. His textbooks are electronic and tests are scanned so that he can zoom the text size. James also meets with each of his professors before the semester to talk about classroom techniques that are most helpful, such as reading out loud what is being written on a white board.
"A lot of students think their IEPs will follow them from high school, but they don't. It's important to know that there are still laws to protect you," said Director of Academic Support Services Meredith Soduk. "In high school, it is the school's responsibility to identify students who need accommodations and then provide them. But in college, it's the student's responsibility. Once approved for accommodations, students must communicate with their instructors regarding their unique needs. This includes scheduling extended time for exams or requesting a copy of class notes. Students learn self-advocacy, which is a skill that will carry them into their professional lives."
The Office of Accessibility Services hosts several campus events throughout the year and is actively involved in orientation to promote the support services available on campus. Annual events such as Disability Awareness Week, the Hidden Disabilities Student Panel Discussion and the Inclusive Excellence Award help to reach students who may have never been diagnosed or realized that they are in need of accommodations.
"Issues such as anxiety and depression frequently don't manifest until college age. It is necessary to spread awareness so that students receive the supports they need to be successful. Asking for help truly is a sign of strength," said Meredith. "It has been extremely rewarding to see James blossom as a student at Walsh, not only for his own advocacy skills, but also watching him develop his entrepreneurial skills. He has grown in confidence during his time here and continues to impress everyone he meets with his positive attitude and demeanor."
For James, there is a deeper reason to move out of his own comfort zone and push his limits. He realizes he is setting an example and precedent for others who may feel limited by their disability.
"I try to remember that I'm a role model for my brother and others who are going through the same thing we went through," said James. "I'm trying to show them that nothing can stop you. You can do whatever you want. Your only limit should be your imagination."