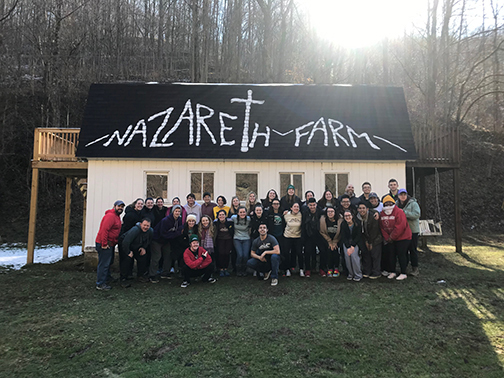 International Travel, Service Mark 2019 Spring Break
March 25, 2019
During the 2019 spring break, Walsh students used their time off to gain new career skills, travel, engage in service opportunities and promote cultural awareness.
Campus Ministry led a group of seven students to Nazareth Farm in rural West Virginia to serve the people of the local community. Nazareth Farm is an organization that is committed to teaching and living out the principles of Catholic Social Teaching and serving their local community in West Virginia. The group worked on demolition and building projects for porches, ramps and roofs for those in the community not able to afford the home repairs.
"During our trip, we learned what it means to serve and to live simply. We did not use napkins, ate limited meat, and had times when all the electricity was turned off. This was all so we can live in solidarity with the people we were serving in order to truly connect to them," said junior Middle Childhood Education major Patrice Rutherford. "We also had the opportunity to interact with the community members and listen to their story. The community and openness of the area is unlike anywhere else I have seen or experienced, and I learned so much from these encounters. Throughout our work, we were encouraged to go outside of our comfort zone and try different tasks that were new or challenging to us."
Global Learning also sponsored a Preventative Healthcare trip to Guadalajara, Mexico, to study the local healthcare system. The group of 12 students and faculty members visited private and public hospitals, physical therapy clinics and listened to lectures at UNIVA University about healthcare professions.
"While visiting the public hospital, we encountered hundreds of people in need of hospitalized care. This hospital is one of the largest in Western Mexico and because it is a public institution, the care was free of charge," said junior Biology Pre-Physical herapy major Kaili Kashiwaeda. "This trip opened my eyes to the vast amounts of people who require healthcare services."hospitals, physical therapy clinics and listened to lectures at UNIVA University about healthcare professions.
Both the women's soccer and women's volleyball teams traveled to Rome, Italy, during their spring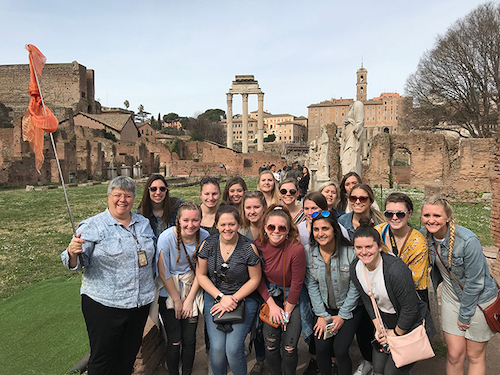 break, exploring the city and playing matches against teams abroad.
"Walking around Rome and seeing places I had only seen in pictures was one of the highlights of my experience," said Erica Hafer, sophomore Biology Pre-Professional major. "Getting to play soccer in Italy was also incredible. They take soccer very seriously in Italy and have a great deal of pride for their teams. The game was different than any one I have ever played before. It was competitive, yet relaxed and the chemistry among my teammates and I was stronger than ever before."
The soccer team played Edil Fermi Frascati in Frascati, Italy, and won their game 4-1. The women's volleyball team played Albalonga Volleyball Club in Albano, Italy, and won three straight games while in Italy, their first wins of 2019 and Head Coach Jayme Plummer's first victory as a Cavalier. The students enjoyed dinner with their Italian teammates, toured Rome and even had an opportunity to visit the Vatican, which included Mass with Pope Francis and a view of Rome from the top of St. Peter's Basilica.
"Playing volleyball in Italy was amazing because we were able to experience their style of playing, which was slightly different than I was used to. The Italian sports culture is not as competitive and demanding as American sports are, rather they focus more on the experience and having fun rather than winning and losing," said freshman Exercise Science major Samantha Wentz. "I loved getting to experience Rome with my teammates. I would recommend global learning trips to other athletes and students because it is an amazing opportunity to open yourself up to the world and immerse yourself in another culture."