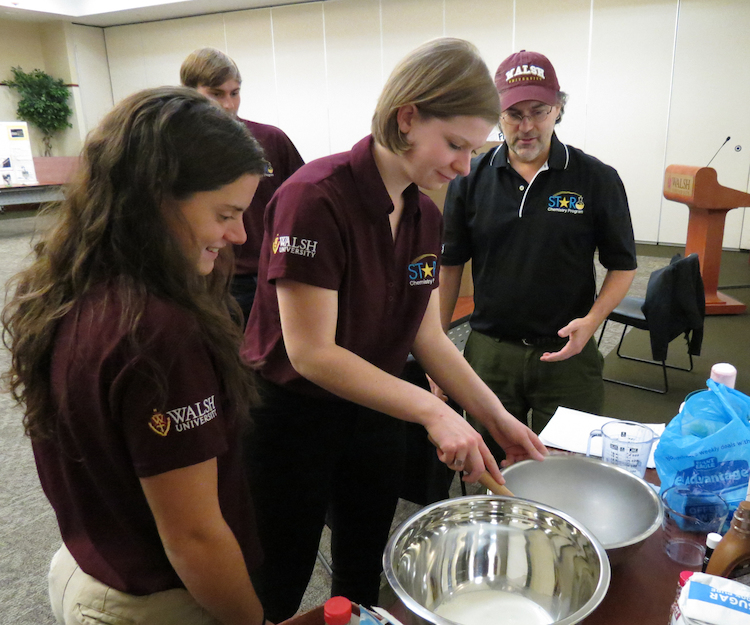 STAR Chemistry Event Explores the Fate of Our Water
From the California drought to Irma's effect on Puerto Rico, natural disasters are impacting the world's water supply. As a capstone event to the semester, the Scholars of the STAR Chemistry program hosted an interactive workshop on campus that explored solutions and promoted understanding of how natural disasters stress our water resources.
The Scholars, comprising 14 Walsh freshmen and sophomores, are a part of a living learning community for academically talented chemistry students. The program is under the direction of Associate Professor of Chemistry Peter Tandler, Ph.D.
"We want the students to showcase how chemistry is applicable to our world and help us to address societal issues. So this semester's theme has been water," said Dr. Tandler. "Water is a scarce resource and as the population increases, we are constantly demanding more uses of water. Fresh water is not always going to be a free resource. We started talking about issues related to water after natural disasters, and the students took it from there."
As part of the curriculum, all Walsh chemistry majors participate in an internship, a three-semester ntegrated laboratory experience, and a four-year Chemistry Careers Seminar. During the first two years, the students conduct one workshop each semester and participate in a service project. Each workshop is centered around a theme.
"For the workshop, the students looked at several natural disasters that all happened in 2017 and were related to water issues, including the California drought, Asia monsoons, flooding in Texas, and Hurricanes Irma, Harvey and Maria," said Dr. Tandler. "The students then identified various issues that either caused or resulted from the disaster such as the creation of flooding, oil spills and contaminated water sources. Each team then explored practical solutions on how we can use chemistry to address these water issues."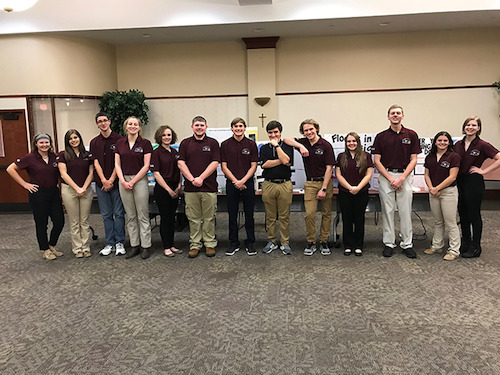 The workshop is just one example of how the STAR Scholars benefit from Walsh's redesigned chemistry curriculum that addresses the existing gap in skills needed by chemistry graduates and those identified by local industry partners.
"Our natural disaster was Hurricane Irma and Maria which both went over Puerto Rico and caused extensive damage. One of the issue they're having in that region is the lack of drinkable water. Because they don't have electricity, they can't treat the water. And they're running into a lot of sanitary issues including parasites and chemical toxins," said STAR Scholar Alan Feldpusch. "One of the solutions that we came up with was to create a simple water filter to get some of the pollutants out. We created our own filter with activated charcoal and a 2-liter bottle – similar to a Brita water filter. It's not ideal, but it's better than what they have now."
In 2014, the Walsh Division of Mathematics and Sciences received a highly competitive National Science Foundation grant in Science, Technology, Engineering and Mathematics (S-STEM) to fund the creation of the STAR Chemistry Program: "Inspiring, Educating, and Preparing Young Science Talent for an American Ready Workforce." The grant is being used to fund 24 four-year scholarships.
"The STAR program is designed to show students that chemistry is not just in the textbooks. It's not just learning a set of facts to memorize. Science is done in the lab," said Dr. Tandler. "And the chemistry that students learn, during their freshman and sophomore years can be applied for real-world solutions. So what they're getting is the big picture of how chemistry is very relevant in providing solutions for today's pressing problems."