Pittsburgh Chapter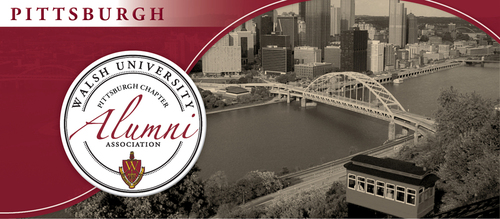 The Pittsburgh Chapter exists to build and reinforce the connections that foster relationships among Walsh alumni and their families and friends within the greater Pittsburgh area. It provides opportunities for personal, social, professional and philanthropic growth while enhancing the mission of the University. Engaging with the Pittsburgh Chapter is a great way to get involved and stay connected with Walsh through our volunteer-based board.
The Pittsburgh Chapter hosts a minimum of two events per year. Examples include:
Walsh Social Events
Walsh Pride (Cavalier Sporting Events)
Networking and Lifelong Learning
Service Projects
Alumni-in- Admissions
Click here to view all Walsh Alumni events.
Stay connected and get the latest Alumni news and events on Facebook.