Expanding campus borders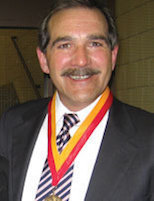 Ronald DeBarr - Class of 1999
I first came to Walsh in the mid 1990's. I originally took the road of "education through life experience" and moved to Berlin, Germany, just after high school. At 19, living in Berlin before the wall came down was a challenge for an American who couldn't speak German. I found work in management right away in the civilian sector of the US Army and Air Force. I took some basic language courses through a Berlin branch of the University of Maryland and taught myself German in less than a year by reading books and newspapers on the train to and from work. Those years in Berlin were both an education and a career at the same time. My experience was what was carrying me into a successful career.
When I turned 25, I decided it was time to return to the US. Reading the Akron Beacon Journal one day, I saw an ad for the new Walsh I.D.E.A.L. Program in Medina (today's School for Professional Studies or SPS Program). With a growing career and family, I seemed the perfect candidate for a program that would allow me to complete my degree without interfering with my current responsibilities. I was familiar with Walsh and decided to look into it. I came to the North Canton campus and first met with Brother Jerry Lessard. Not surprisingly, I tested easily out of a foreign language requirement with my German.
It was Professor Gary Deckard who had an impact on my spiritual life. He taught religion, and you could tell that he really felt what he was teaching. It was hard to sit in one of his classes and not leave inspired. That is why I credit my time in Walsh's IDEAL Program as helping to ground me professionally and spiritually. The year I graduated from Walsh was also the same year I completed my RCIA courses and became a member of the Catholic Church.
While education is important, I have always valued those lessons learned from personal experiences. Just this summer, I hosted a group of Walsh friends for a farewell meal for Father Milton visiting from Tanzania. Another life first….I even prepared roast goat, as requested, thanks to an informed butcher at Cleveland's West Side Market. During dinner, we talked about getting together in Tanzania, which will hopefully include climbing Mount Kilimanjaro with my good friend Father Wilhelm. Receiving my formal degree did not end my time with Walsh. It continues even today.