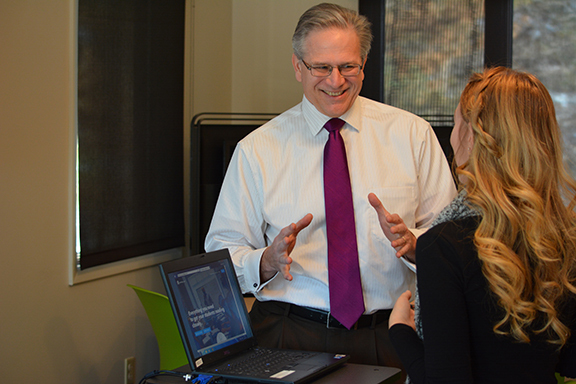 Dr. Ron Scott Prepares Students to Write for the Digital Culture
Walsh faculty are always looking for ways to prepare graduates for career success. Dr. Ron Scott is no exception. As chair of the Division of Language & Letters, Scott has been an integral part of the development of a new writing major for 2015 that will include a focus on writing for digital communications. Putting a spin on the traditional English or professional writing major, the new major will prepare students for careers in areas such as social media analysis, technical writing, print and broadcast journalism, advertising, strategic public relations and integrated communications.
"Today's messages are often multimodal and include graphics, sound, video and other visual components, as well as text" Dr. Scott explained. "Even in the traditional writing cultures of English, literature and journalism, we need to understand that there are different nuances when you add the digital element."
Scott is helping to develop coursework that will preserve the essential foundation of the written word but also incorporates the latest digital communication tools, visual culture and the Internet.
"We don't want to use technology just because it looks cool or is considered fun. We need to make sure we know what potential employers are looking for and prepare our students accordingly," Dr. Scott said. "Our graduates are going to know Google Analytics and understand the value of a hashtag. In fact, digital communications will be their second language."