30 years and no regrets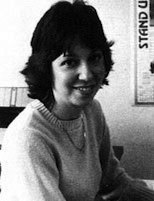 Sandy Suvak - 1979 to Present
Over 30 years in the Walsh admissions office and I've seen a lot of changes. But not as many as you'd probably guess! Fashions have come and gone, hairstyles have changed and technology has improved the way we do our jobs. But the smiling, excited faces of the young men and women who walk in our admission's doors with hopes of attending Walsh are still the same. Also the individual attention we give to each family is still the same. While some people say that the personal touch is gone from college admissions, I can honestly say, it hasn't here at Walsh.
Everyone has a story about how they came to be at Walsh. Most of us can say that the experience has changed our lives. I credit my story to following my heart and Brother Ted Letendre, dean of admissions (1978-1981) who first hired me in the admissions office.
It was 1978, a long time ago, but I can still remember the way my parents looked at me when one day out of the blue, I announced that I had impulsively (which is not one of my characteristics) quit my job, without a back-up. You would've thought I had just announced that I was going to jump out of an airplane…without a parachute.
During the 1970's, I was employed by a bank in downtown Canton as a real estate appraisal secretary. It was an interesting job and one I enjoyed. But as time went on, I began to feel like I wanted something more from my career. I don't remember actually making the decision or planning to do it that morning, but one afternoon, on the anniversary of my fifth year at the bank, I walked into my boss's office and abruptly quit my job. Honestly, I had never done anything so impulsive in my life. Looking back, I blame it on youth. Without a back-up job or even a prospect, I went home that night to face my parents and tell them my decision. I think their response went something like "What are you DOING?" I calmly assured them it would be all right. I was confident I'd find a better fit for me.
Living close by Walsh College, I was in the habit of driving by every day and always thought working for the Church in some way would be fulfilling. I guess that was the second impulse that led me to turn into the parking lot one afternoon and walk in to inquire about any openings. I met Brother Ted Letendre and filled out an application for an open position in the admissions office. He even interviewed me that afternoon! About two days later he called and I accepted the job. My parents were relieved and I was, well, not surprised. It just felt right.
Brother Ted and I were both fairly new to the admissions office and I guess we sort of learned together. He was so dedicated to the students here at Walsh. He lived in the Residence Halls and served more as a mentor to students than just their admissions counselor. He was a great boss and always patient with my many questions. I've always been grateful to Brother Ted for giving me chance here at Walsh --
little did he know at that time, I'm sure, but Walsh became my second home throughout my adult working years and also the place my husband, Dan Suvak, and I met! I look back now and I can't believe how it all just fell in place. I never worried. I just felt like I was supposed to be someplace else and made the decision to quit the bank one afternoon. Thirty years later, it's a decision I never once regretted.