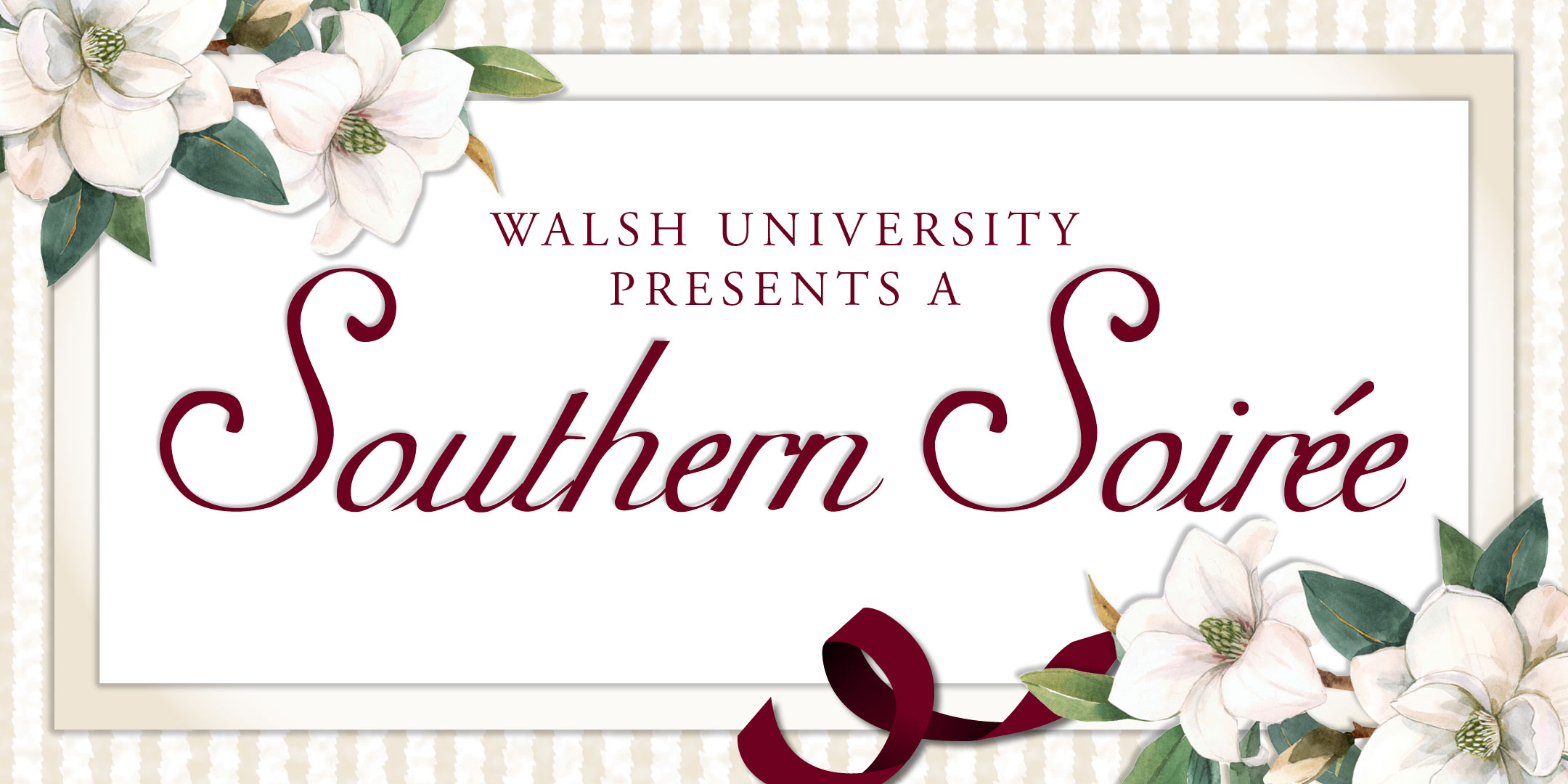 Southern Soiree Dinner and Auction, Saturday, May 20, 2023
Event begins at 5:00 p.m. Program and Auction to Follow at 6:00 p.m.
Join Walsh University President Dr. Tim and Miss Drenda Collins as they celebrate their southern heritage at this elegant affair that benefits Walsh University students. Put on your seersucker jacket, chiffon dress, bowtie and pearls, and come join us for the Southern Soirée dinner and auction on May 20, 2023.
Guests are welcome to arrive to the Hoover Park Dance Hall & Grounds at 5:00 p.m. to begin the evening's festivities. Grab a glass of sweet tea or a cocktail and peruse the silent auction items, interact with students, sponsor a magnolia, enjoy a whiskey tasting, take a chance in the wine pull, purchase tickets for the luxury raffle items and enjoy live music performed by Walsh University students. At 6:00 p.m. we will being the program, followed by a wonderful Southern meal and the Live Auction that will feature a beach house getaway, out of town experiences and other amazing opportunities for our in-person guests. Hope to see ya'll there!
 The Magnolia Tree of Dreams
The Magnolia tree symbolizes luck and stability and is a staple in Southern gardens, delighting people with its lovely blossoms in the early to mid-spring. The Magnolia Tree of Dreams represents the dreams of our students - dreams to be able to complete their degrees and go on to fulfill their life's purpose. The tree begins bare and is filled with beautiful hand-crafted, by the Crafty Cavs, magnolias to represent the support of our generous community.
Help us bring our Magnolia Tree of Dreams into full bloom! Magnolia Sponsorships are available before and during the Soirée. For each $500 magnolia sponsorship, you are helping to bring students closer to their dream. As a sincere thank you, donor names will be attached to each sponsored magnolia at the event. Our goal is to sell 100 magnolias and raise $50,000 again this year!
To purchase a magnolia or RSVP for the event, please visit: www.walsh.edu/soiree 
Location: Hoover Park Dance Hall & Grounds, Across from Walsh University's Main Campus
Cost: $125/person