Student Life and Services
Students stand out at Walsh University
At Walsh, there are many opportunities for our students to get involved, have fun and grow as active members of the Walsh community.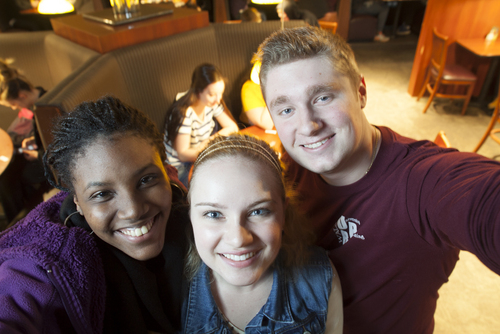 Students can:
Join one or more of our 50+ clubs and organizations (or start one of their own)

Sign up for or start a team in our intramural leagues.

Grow their faith through Campus Ministry.

Sing in the choir or become a member of the marching band.

Participate in numerous activities and programs designed to enrich your personal, physical, spiritual and academic life.

Connect with other Walsh students and the greater community with service projects, including Walsh's Habitat for Humanity house, volunteering in the local schools or soup kitchens, community service trips during holiday breaks, and so much more!
Supporting our students
Our Student Affairs team supports these activities and provides additional programs and services that respond to the needs of individual students, as well as those of our community.
Our pledge is to give students a lifelong passion and appreciation for six core values: respect for self, others, and the world; integrity in thought, word and deed; excellence in education; an appreciation of diversity; hospitality; and selfless service.
Made up of a diverse group of dedicated staff, the Student Affairs team is committed to the holistic development of our students - mentoring, empowering and supporting them during their time at Walsh and beyond, including Counseling Services, and developmental programs for our residential, commuter, multicultural and international students.