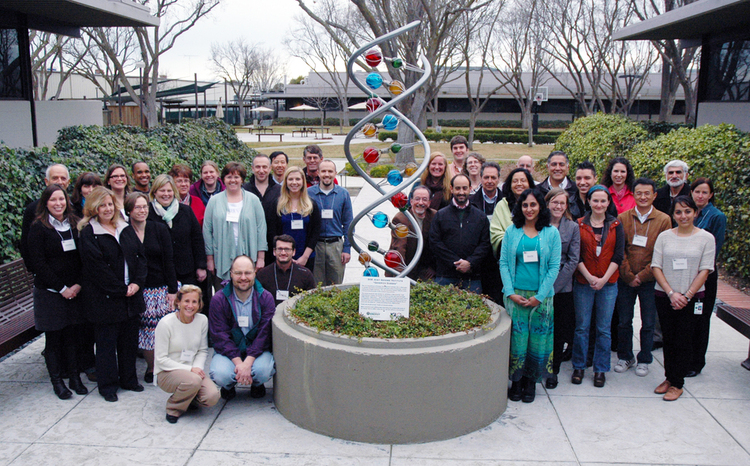 Beyond the Textbook: Transforming Bioinformatics Education through Research Experience
Undergraduate Research in Microbial Genome Annotation
The students in Dr. Tom Freeland's class are helping to redefine the national educational experience in science bioinformatics classes.
As the Walsh Director of Bioinformatics, Dr. Freeland was recently selected to participate in the prestigious U.S. Department of Energy (DOE) 2012 Joint Genome Institute (JGI) Undergraduate Research Program in Microbial Genome Annotation. Walsh was one of only 26 teams from a full range of undergraduate bioinformatics institutions invited to the prestigious DOE Joint Genome Institute in Walnut Creek, CA. Walsh Associate Professor of Biology Dr. Darlene Walro also attended the meeting.
Supported by the Office of Biological and Environmental Research in the DOE Office of Science, the DOE JGI enables scientists from universities and national laboratories around the world to probe the hidden world of microbes and plants for innovative solutions to the nation's major challenges in energy, climate, and environment.
The "Interpret a Genome" Program provides students in colleges and universities with access to recently sequenced microbial genomes, such as those of organisms from little-known branches of the Tree of Life selected as part of the DOE JGI's Genomic Encyclopedia of Bacteria and Archaea (GEBA) project. The students analyze and annotate the genomes in the context of their own class work, gaining hands-on knowledge of genomics and bioinformatics.
While a significant portion of the DOE JGI's projects are related to the discovery of alternative fuel sources, Dr. Freeland notes that the benefits resulting from this type of research could potentially reach beyond energy. Walsh students will focus on two genome categories. The first will be to study human pathogens which could result in new discoveries on how proteins become targets for drugs. Dr. Walro's microbial expertise afforded students the opportunity to focus on the energy question and research microbial organisms for fuel sources.
"Because we have access to unlimited data through the JGI Program and our students have expressed an interest in both medical pathogens and environmentally interesting organisms, I think we will study one from each category," said Dr. Freeland. "Every piece of information is useful in the analysis of microbial DNA sequences. The results produced by the DOE JGI project could potentially lead to a new medical treatment for an infection or finding an alternative to the controversial process of creating ethanol fuel from food crops."
This collaboration between JGI, undergraduate educators and students is also a response to a national call to reform undergraduate life sciences education through research experience.
The workshop provided an opportunity for JGI scientists and participants from undergraduate institutions across the country to collaborate and discuss new ways to implement genomics and bioinformatics at their respective institutions. In addition, each participant received specialized training on how to teach the highly detailed annotation genomics/bioinformatics tools to their students. These are tools used by "real-world" researchers, not just student tools. Armed with the knowledge he gained at the workshop, Dr. Freeland is leading Walsh students in the analysis of metabolic pathways of microbial organisms.
"Walsh University was chosen because our application demonstrated the potential to enrich the curriculum with sequence-based research," said Dr. Freeland. "We were told that our approach has the potential to contribute to the national model for undergraduate research that is being collectively developed."
The goal of the program is to support the use of annotation to teach curricular standards in new ways. In turn, the undergraduate collaborators provide the JGI institute with valuable new annotation data, which assists it in filling in gaps in sequencing research.
As their annotation platform, students will use the Integrated Microbial Genomes Annotation Collaboration Toolkit (IMG-ACT), a wiki/Web portal fusion that lets them work with existing genome datasets and record their discoveries. The platform is the result of collaboration between DOE JGI's education program and faculty members from several universities around the country.
Aside from access to genome data and "virtually endless" research possibilities, IMG-ACT offers students and their teachers access to bioinformatics databases, instructor course management and student notebooks.
"We're thrilled to provide our students with a 'real-world' research experience that has the discovery potential to enrich the scientific community as a whole," said Dr. Freeland. "One of the most effective tools of an educator is experience itself. Our students will be moving beyond the textbook and using sophisticated tools that are not usually supplied to students. These are the tools industry researchers are using – it's an opportunity to train on systems not typically found in the classroom."
Ultimately, the program's goal is to allow students nationwide to annotate GEBA genomes while learning about genomics and bioinformatics. Students are expected to begin their work in the 2012-2013 academic year, but Walsh students are starting immediately.
"What was truly gratifying was the realization that here at Walsh, our bioinformatics coursework is right on target with what is happening on the national level in university classrooms," said Dr. Freeland. "This experienced verified that our processes in bioinformatics and genome research are well defined and that since our program's inception, we have been on the right track."