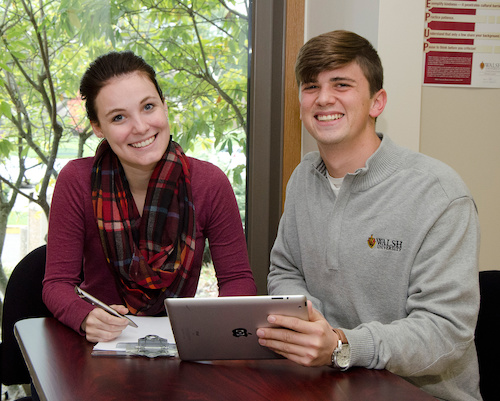 Haven't found your way at college? If you are feeling overwhelmed about your current college environment, find out why more students are transferring to Walsh University.
Why is Walsh a Transfer Friendly University?
Transfer scholarship packages are available with a tuition guarantee.
We will work with you to find the best degree path option with a holistic approach to your transcript evaluation.
All classes will transfer for credit with a grade of C or higher from a regionally accredited institution.
You'll have the opportunity to register for classes with the Dean or Division Chairs for a smooth transition.
Your orientation is dedicated specifically for transfer students.
We'll to everything in our power to make your transfer to Walsh an easy one.
Learn about our exceptional programs in nearly 60 majors. Hear about Walsh's close student/faculty interactions, and how a personal advisor will guide your path to graduation, and work with you every step of the way.
Worried about finances? Don't worry, Walsh offers special financial aid packages for transfer students.
Inquire today to FIND YOURSELF at Walsh University
For more information, contact Assistant Director of Undergraduate Admissions/Transfer Counselor Jessie Canavan at (330)-490-7177 or jcanavan@walsh.edu.
Transfers
Walsh University welcomes students who are enrolled or who have been enrolled at other post-secondary institutions. Students seeking to transfer to Walsh University are required to submit the following to the Office of Admissions:
Official final high school transcripts.

Official transcripts from all colleges and universities or professional schools previously attended.
Transfer Requirements
Students who have been enrolled in another institution of higher education and who seek admission to Walsh University must have a cumulative grade point average of a 2.0 and be in good academic and social standing. Credit to be transferred must be graded a C (2.0 on a 4.0 scale) or better.
To receive a degree
A minimum of 32 credit hours at Walsh University is required of transfer students. All students will be held to the requirement that the last 32 semester hours, with a minimum of 15 credit hours in the major field, must be taken at Walsh University.
Students transferring to Walsh University with 60 or more completed semester hours, a GPA of 2.0 or higher, and acceptance into a degree program may qualify for a reduced core requirement.
Transcript Evaluation
Make an appointment with the admissions office to have an unofficial transcript evaluation done prior to your admission and acceptance to Walsh. You will receive a copy of your transcript, containing all approved transfer coursework from the Office of the Registrar, at the time of your enrollment.
Readmission
If you attended Walsh University before attending your transfer institution or if you were dismissed from Walsh University, you must re-apply for admission. Please contact the Registrar's Office at (330)-490-7365.