The perfect afternoon for a "lovely chat" with brother power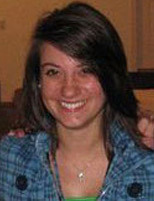 Veronica Kennedy - Current Student
The day I talked with Brother Power is one I will always remember. It was about a month ago, on a Monday. I had been walking with my friend, Bridgette Drockton, between classes when we decided to see if Brother Power was sitting in his usual spot. We had both met him briefly before. Sure enough, he was sitting on his porch in La Mennais that faces Giant Eagle.
We re-introduced ourselves, and soon we were sitting down and talking with him as if we had known him for years. We talked about the Residence Life staff and science professors, since we are both involved in these areas. He recounted his younger days spent in England as a student of C.S. Lewis and J. R. R. Tolkien. I was fascinated to learn that he regularly went to lunch with these literary giants. He told us that Lewis and Tolkien never indicated that they were writing their masterpieces! To him, they were just professors.
Bridgette and I knew that we needed to study for a quiz, but neither of us wanted to leave. We were mesmerized by Brother's welcoming kindness and spunky personality. We knew that we were talking to a legend, but the conversation was as comfortable as if we were talking to our grandfathers.
Soon a 10-minute discussion turned into an hour, and during that time, about eight people came up to Brother Power and greeted him. Each time someone asked how he was doing he replied, "I'm having a lovely chat with two of the most beautiful girls on campus." Brother Power always had a witty comment or a joke for each of them, from Walsh faculty to maintenance staff to athletics coaches to campus police. When men and women's tennis coach and Athletic Business Coordinator Sherry Bossart came over, she noticed that he was smoking and jokingly rebuked him.
She kept telling him to hold out his hand, saying, "Gimme that cigarette!"
He would just say, "I know, I know," and grumble lightheartedly, giving her his hand. But he had switched his cigarette to the other hand. She laughed, and just as soon as she turned her back to leave, he took another puff, which sent us into fits of giggles. He is a spunky man who radiates with unrestrained joy.
Finally, we had to go. We had stayed until the last possible second, soaking up this once-in-a-lifetime experience. I gave him a hug and he kissed me on both cheeks.
As we walked away, I knew that I would remember that hour for the rest of my life. Even though we were busy that day, I learned the importance of sitting quietly and truly enjoying the presence of another person. And every day, Brother Power does just that.