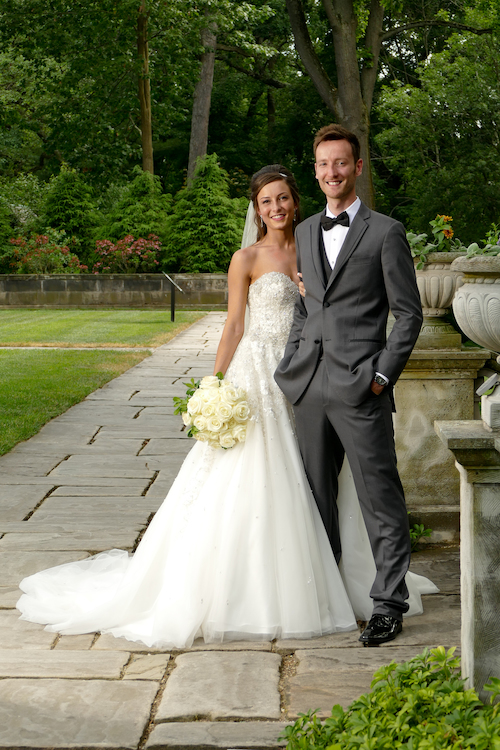 Date of Marriage : 06/17/2017
Did you meet before, during, or after your time at Walsh?: During
Where did you meet?: Mutual friend's birthday party
How many children/pets?: 1 Fur Baby
Share Your Story :
We met a met at a mutual friend's birthday party! Darby was an international student in his second year of accounting and on the Walsh soccer team, Alix was in her second year of the nursing program. After summer break they went on their first date and the relationship progressed from there. Alix went to visit Darby and his family summer of Junior year and toured all over England with Darby. Both fell in love with each other and their families. (Attached is the first picture ever taken together:)
The Proposal:
Darby & Alix graduated from Walsh in May of 2015. In June Alix had just accepted her first RN position and the two went out to celebrate at Gervasi's. Before dinner, while on a walk, Darby handed Alix a Pandora box with a new charm inside. Before Alix could open the new charm and realize it was new charm of an engagement ring, Darby had gotten down on his knee and had another box in his hand. He opened the box and said "Alix, will you marry me & be my best friend for life?" Alix, of course said yes! Darby's brother was a secret photographer and photographed the whole thing! 
Where are you now?:
Darby & Alix married at Stan Hywet in 2017 with a reception following in England a week later. Darby is a Senior CPA Accountant at Meaden & Moore firm. Alix is a Registered Nurse and currently in her final year of Graduate school to become an Adult-Gero Acute Care Nurse Practitioner. They built a house in canton where they live with their their fur baby, Koda (a German Shepherd). Alix's family lives close by and the two of them travel to England as much as possible to visit Darby's family. They look forward to what the future brings for the two of them!