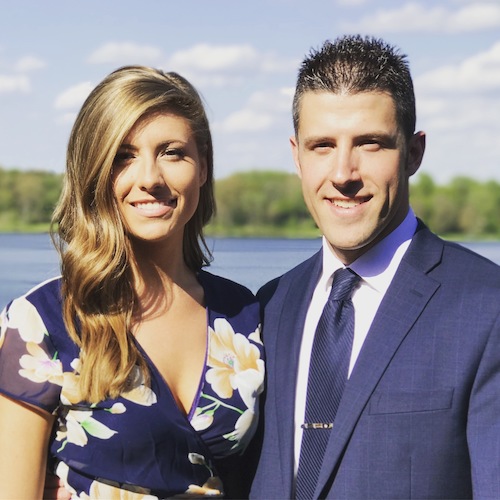 Date of Marriage: 06/28/2014
Did you meet before, during, or after your time at Walsh?: During
Where did you meet?: Barrette Center Hallway
How many children/pets?: 1 Dog - Black Labradore
How They Met:
"It was my very first college class on the the very first day of the Fall semester in 2007. I was a nervous freshman, he was an confident sophomore. I sat in the back the room for Algebra II and caught him glancing at me throughout the course. When we were dismissed, he was walking behind me, which made me even more nervous. That's why I tripped up the stairs and dropped my books everywhere. He helped me up and walked me to my next class."
The Proposal:
"In February 2013, we were meeting friends for dinner at Main Street Grille. Our friends were "running late" so we decided to make a pit stop at our alma mater to see some of the new construction on campus. Despite the heavy snow, we parked at the student center and walked through the campus laughing at the memories each step triggered. We passed the Barrette Center and reminisced about our graceful first encounter. He suddenly opened the doors to the Chapel and I hesitated. I protested because it was after dark but for some reason, all the lights were on and the Chapel was brightly lit. We went in and before I knew it, he was down on one knee in the vestibule. We were married at that same Chapel a year later."
Where Are They Now?
"My husband and I bought our first home in 2015 in Akron, Ohio. We are both working in jobs we love. Kyle works for the House of LaRose and I am a School Psychologist. Right now, we have an energetic black labrador at home and are looking forward to expanding our family. We couldn't be more grateful for the experiences that Walsh University afforded us and the serendipitous way we met on that beautiful campus."