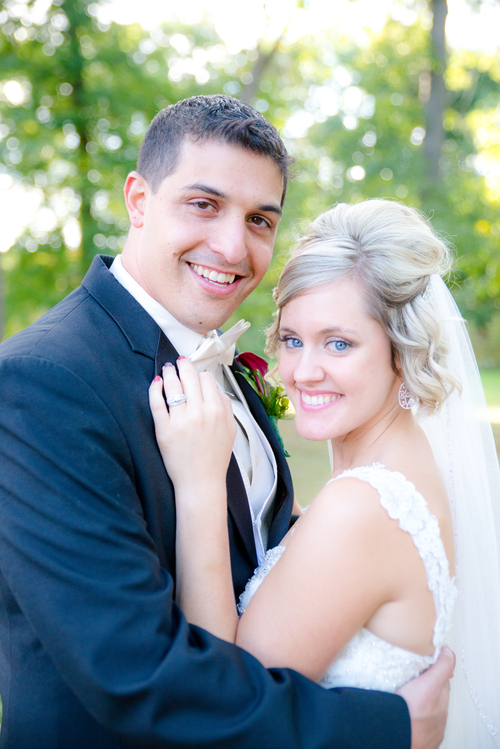 Date of Marriage: 09/26/2015
Did you meet before, during, or after your time at Walsh?: After
Where did you meet?: It started with a blind date, set up by a mutual friend
How many children/pets?: No children yet, but we do have a fur baby (dog) named Zoe.
How They Met:
"Our love story started with a blind date! July 27, 2012 Pete picked me up at my house where I was treated to a fabulous meal at Outback, sitting on the patio. We laugh because the sun was in my eyes the entire time causing me to squint at him during all of our conversations. I secretly think Pete thought I couldn't see him smashing a whole appetizer of loaded french fries. Thats something we still laugh about. After dinner, we had a competitive, very flirtatious game of Putt-Putt, I beat him of course! The evening ended at the Conestoga, a hidden bar in downtown Canton for drinks and a small kiss when he dropped me back off at home. From there, we got to know each other, seeing each other day after day, going on many walks in the park and enjoying ice-cream."
The Proposal:
"Our journey began with many park dates, with long walks and hikes. Our story entered a new chapter in the world's most famous park: NYC's Central Park! I didn't see it coming because we ventured to New York City to visit and take engagement pictures of our good friends. On December 30, 2013, we shot all around Central Park. After the session we took a walk and arrived at the biggest bolder we've ever seen, which overlooked a pond, bridge and an ice skating rink, with the big city in the distance. It was beautiful so of course I had to get the camera back out. After setting it up and again snapping another photo of our friends, it was our turn. I wanted our picture at the very ledge of the large rock, but the only problem was Pete wouldn't look at the camera. I kept telling him, "Babe look at the camera!" He just kept looking at me and finally said, "No, I have a question to ask you." From there, he popped the big question and of course the answer was a big, "yes!" Followed by a curious question of, "Wait you didn't get down on one knee, is this really happening, is this real?"
The explanation: like I said before, I took Pete out to the very ledge of the rock which prevented him from getting down on one knee. This would have caused both of us and the ring to hit rock bottom! But, it is something we will forever laugh about!
After hugs, kisses, laughs and excitement in front many many people, I then burrowed myself in his coat with tears of happiness and joy. We are both blessed to have one another and couldn't be happier!"
Where Are They Now?:
"Pete and I were married on a beautiful September 26, 2015 day. It was by far the most love and joy we have ever experienced, with all of our family and friends supporting us. We had a traditional Byzantine Catholic ceremony uniting us and God together as one. We are looking forward to much time together and our honeymoon this summer!
We own our little home in a quiet neighborhood, located in Canton South. We don't have children...yet, but we do have a dog named Zoe, who's treated like our little baby. Pete and I are both excited to see where our journey and adventures take us."