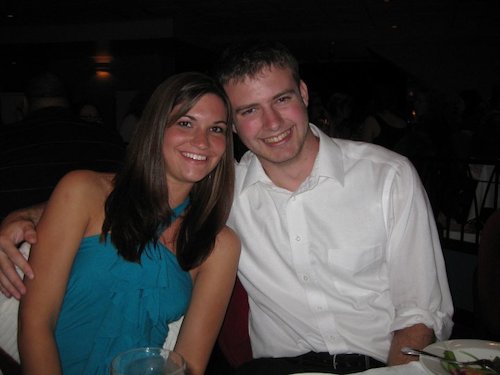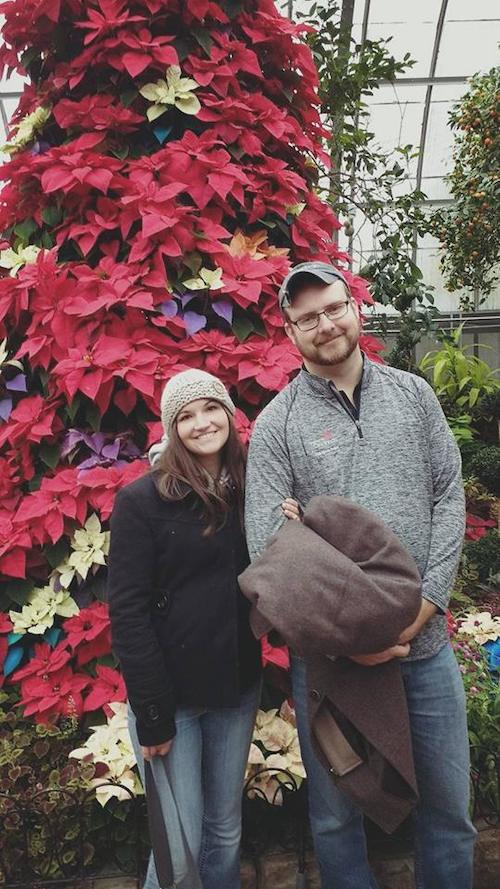 Date of Marriage : 06/06/2014
Did you meet before, during, or after your time at Walsh?: During
Where did you meet?: Psychology 101 Dr. Metz's class
How many children/pets?: 1 Dog
Share Your Story :
"Stephen and I (Laura) met at Walsh University our freshman year in our Intro to Psychology class. We began to form a friendship our sophomore year as we took more classes together (which increased throughout our time at Walsh when I was not sure my adviser's advice was always the best and took Stephen's advice as to which classes I should take each semester. I found out later he just really wanted to be in classes with me). We went through college as friends until our senior year. Through many things neatly falling into place, we kicked off our first year of dating by graduating from undergrad, sending Stephen off to Minnesota for grad school, surviving a long distance relationship, and finding out I was accepted into a grad school five minutes away from his school in Minnesota. Two years later he graduated and moved to Cincinnati where he started working at the College of Mount St. Joseph in Cincinnati as a Campus Activities Coordinator. I still had one semester left of graduate school and stayed in Minnesota. That is when Stephen decided he would propose (so I wouldn't be so mad that he left me to fend for myself those last few months haha). After graduating, I luckily found a job in Northern Kentucky as an Outpatient Therapist. We have been grateful for all of the things that have worked out so well throughout our relationship and we have been together for a total of about 7 years now."
The Proposal:
"It was the day after Christmas and Stephen needed to look at apartments in Cincinnati since he was starting work within the next week or two. There was a terrible snow storm that swept through Ohio, but we were determined to find an apartment that day. We went to the second apartment complex that he had found on the internet and believed it was perfect for what he needed. After fighting the snowstorm throughout the many hills of Cincinnati to get to the apartment complex, I suggested that we start heading back home. Stephen said he really wanted me to see the College of Mount St. Joseph (his new employer) and I gave in to his request. As we walked through campus, Stephen was saying that we were headed the right way to his office (when we were really on the opposite side of the campus from his office), but he seemed to be a little confused as to where it might be. We tried to open a couple doors, but they were locked, and he said his office was in there (he later told me that we were in the same area as President of the college's office). Stephen stated that we should sit and relax at the couches that were nearby. The couches were at the top of an open staircase that had a beautiful window with a view overlooking the courtyard and the bell tower on campus. The campus was covered in white, fluffy snow and it was still snowing as we looked out the window.
Stephen then said that he had a Christmas present for me. I had a thought that he might propose when he said this and started digging in the bag, but when he pulled out a larger box than what a ring would be in, I thought otherwise. I opened the box and inside, it had a viewfinder toy (http://theamssite.com/images/viewfinder.jpg). I looked into it and there were pictures of Stephen and I in it. I flipped through a couple pictures but then stopped because I thought that it was the sweetest gift ever, and I was getting a little emotional over pictures that I had seen a million times; I didn't want to start tearing up at the college.
Stephen told me that I needed to continue to look at the pictures till the end. So, I started looking through the rest. Much to Stephen's despise, the viewfinder became stuck. He took the viewfinder and in a flustered manner he adjusted the pictures and quickly gave it back to me. I finally flipped to the last picture and it was a picture of a ring. I asked him what it was, looked over and saw he was looking through his gift bag for something. He pulled out a box (that was the size of the ring box this time), got down on one knee, opened the box, and asked, "Laura Briggs, will you marry me?" I said, "Oh my gosh....Yes!!"
After a lot of "Oh my gosh's," Stephen was able to ask me where I would like to eat. Since we were in Cincinnati, I said, "Skyline, of course." We called our parents and headed home after our lovely dinner at Skyline Chili. It took us 6 nerve wracking hours (when it usually takes us 4) to get home because of the snow, but it was one of the best days"
Where are you now?:
"Currently, we still live in Cincinnati, Ohio. Stephen just started working at University of Cincinnati as Assistant Director of Leadership Initiatives this fall and I was promoted to my new position within NorthKey Community Care as Internship/Therapeutic Aide Coordinator this summer. We are both adjusting to our new jobs, and on top of that, Stephen is working on getting a doctorate in Leadership Studies at Xavier University. We have been married 2.5 wonderful years and often reminisce about our Walsh University years as that is where this all began!"