MBA Program
Courses offered online or in-class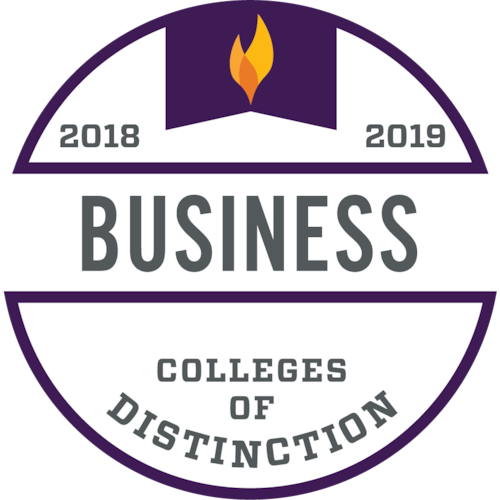 You have the desire to manage and strategize, a desire to innovate. It's about more than a better job and more money. It's about realizing your full potential. Getting your MBA degree from Walsh University may be the answer. Walsh's accredited MBA program offers a chance to earn your degree from a well respected university that understands the needs of the working adult.
With courses available in-class or online, our curriculum allows for more flexibility in completion time. While it is possible to earn a degree in any specialty in as little as 12 months, navigation of our program at a more flexible pace is also possible, allowing students to earn an MBA in just two years.
November 13 Info Session: Register Now
RECENT HONORS FOR WALSH'S MBA PROGRAM INCLUDE:
Named a 2017 Best Online Program by U.S .News and World Report
Ranked in the Top 50 Best Value Accelerated Online MBA Programs for 2017 by Values College
Ranked #9 in the country by Online MBA Report for 2017
Recognition as a Top 50 Accelerated Program for 2017 by Affordable Colleges Online
Named a 2016 Best Online Program for Veterans
The Advantages of Walsh's MBA Program
Small classes and individual faculty contact
Accelerated (8-week) course formats
Knowledge and skills to work in the top business organizations
Flexible class schedule for working adults
The Walsh MBA program offers three specialties:
Unlike other MBA programs, Walsh University's program is designed with your busy work schedule in mind to allow for flexibility in completion time. You can earn your MBA degree in Management, Healthcare Management or Marketing online or in-class at our Northeast Ohio campus in as little as 12 months.
Classes are small and you only meet one evening per week and one Saturday per month in eight week segments. Watch our virtual information session to learn more.
DeVille School of Business Mission
To grow, to learn, to lead, and to serve the global community.
Extending the charism of the Brothers of Christian Instruction by meeting students where they are with the resources and support they need, the mission of the DeVille School of Business (DSoB) is to prepare our graduates to be leaders in service to others through a relevant, global, and integrated business curriculum within a Catholic, practitioner-oriented teaching institution.
We accomplish our mission through:
Offering curricula that are adaptive, flexible, experiential and responsive to changing market conditions
Emphasizing critical thinking, effective communication, systems and sustainability, and ethical, social, personal and professional responsibility
Providing our primarily first-generation traditional and non-traditional undergraduate students with personal support and attention in a collaborative, small-class environment
Accommodating our graduate students with flexible course delivery options with personal support and attention in a collaborative, small-class environment
Engaging in professional and scholarly activities that are impactful and relevant
Vision
The DeVille School of Business aspires to be a premier AACSB-accredited choice for undergraduate and graduate students and a distinguished resource for the business and professional community.
Core Values
Integrity | Service | Responsive | Success | Focus | Diversity | Improvement
Guided by our commitment to students and other stakeholders, we:
Foster an ethical environment of honesty, accountability, responsibility.
Advance a culture of leadership in service to others.
Provide an integrated undergraduate and graduate global business curricula that are adaptive to changing market conditions and accommodate students with flexible course offerings.
Cultivate meaningful professional relationships within a supportive, developmental approach to advise, guide and mentor students.
Commit to experiential, practice-focused student learning activities and outcomes to prepare students for life after graduation.
Respect the diversity of individuals, ideas, cultures, strengths and experiences and the value it adds to our school.
Foster a culture of continuous improvement in all facets of the DeVille School of Business through ongoing review, assessment, evaluation and action.
Expected Outcomes
Instilled with the charism of the Brothers of Christian Instruction – the DeVille School of Business Community will be oriented toward serving our global community through sustainable ethical leadership.
The DeVille School of Business Faculty will produce impactful and relevant intellectual contributions primarily focused on teaching and practice.
The DeVille School of Business will be a distinguished and preferred resource for the business and professional communities.
The DeVille School of Business will be recognized for the currency, relevancy, flexibility and innovation of its program offerings; teaching strategies; and responsiveness to business and community needs.