July 1, 2019
Dr. Timothy J. Collins Appointed President of Walsh University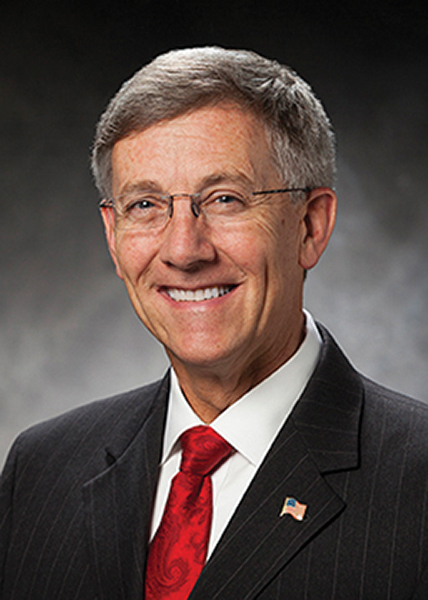 North Canton, Ohio: The Walsh University Board of Directors is proud to announce that Timothy J. Collins, Ed.D., has been selected as the University's seventh president. He succeeds Richard Jusseaume, who retired from the position after serving as President since 2001. A senior executive since 1997, Dr. Collins will join Walsh from Johns Hopkins University Applied Physics Laboratory (APL) where he served as Chief Government Relations Officer for the nation's largest university affiliated research center. In addition, Dr. Collins served as the Board Secretary for APL and Chair of two graduate degree programs in the Johns Hopkins Whiting School of Engineering.
"With Dr. Collins breadth of knowledge in Catholic higher education, combined with his dedication and track record of service, commitment to the Catholic faith and the experience of working at a senior level in higher education for 20+ years, we are looking forward to the new heights that Dr. Collins will lead us to as the next president of Walsh University," said Jeff Rossi, Chair, Walsh University Board of Directors.
Dr. Collins brings more than 22 years of senior-level experience to Walsh University as a distinguished higher education professional with leadership expertise in philanthropic endeavors, conceptualization and implementation of institutional strategic plans and a demonstrated understanding of a private university's mission, student-centered culture and Catholic traditions. As a national guest lecturer and scholar on Catholic higher education, Dr. Collins has been involved in Catholic education for nearly three decades and earned his doctorate in higher education and organizational change from Benedictine University.
Prior to joining Johns Hopkins University in 2005, Dr. Collins served as a Senior Officer in the U.S. Air Force with multiple senior command experiences during his 23 years of service in the U.S. and abroad.
Dr. Collins will begin in his new role at Walsh on August 5 at a university that in the past decade has experienced significant and consistent growth within almost every facet of its operations including enrollment, academic programming, faculty and staff, financial resources and physical facilities. He will be formally inaugurated as Walsh University President during a ceremony later this year.
"It is an honor and privilege to be afforded the opportunity to join the community on this mission to build servant leaders. I pray for the continued intercession of Our Lady of Perpetual Help, the Patroness of the Brothers of Christian Instruction, as we provide a values-based education in the Judeo-Christian tradition," Dr. Collins said. "My commitment is to further advance the 200-year old charism of the Brothers and 'take our place' as a distinctive Catholic university of national prominence."
Professional Experience: Dr. Collins joined Johns Hopkins University in 2005, and has strategically set visionary objectives during 14 of the last 39 consecutive years that Johns Hopkins has led U.S. universities in research and development.
In 2014, he was appointed the inaugural Chief Government Relations Officer overseeing comprehensive governmental activities across the entire research and development portfolio of the Johns Hopkins University Applied Physics Laboratory.
APL has more than 7,000 staff members involved in technical and scientific contributions on behalf of the Department of Defense, the intelligence community, the National Aeronautics and Space Administration and other federal agencies.
Since 2016, he has led two graduate programs at the Whiting School of Engineering as Chair for both the Engineering Management and Technical Management programs at Johns Hopkins University. Among his many accomplishments, he assisted in the establishment of the Johns Hopkins Systems Institute - an interdisciplinary university effort bringing together research, education and systems engineering practice to meet national needs in medicine, health care delivery and infrastructure. He has also served as the APL Board secretary managing activities with the Johns Hopkins University Trustees and independent national luminaries.
Prior to 2014, as a mission executive, Dr. Collins headed up all aspects of APL's precision engagement engineering and science and technology portfolio. He also served as a member of the prestigious Principal Professional Staff.
Military Leadership: Dr. Collins served as a senior officer in the United States Air Force from 1997-2005 across Asia, Europe and the United States, including command of operational or operational forces at the flight, squadron, group and wing levels. He was the No. 1 student-leader at the U.S. Air Force Academy graduating in 1982, served as the youngest pilot instructor-evaluator in the Air Force, and in 1997, became the Air Force's youngest senior officer. Military honors include Air Medals, Aerial Achievement Medals, Aircrew Safety Award of Distinction, Bronze Star, Defense Superior Service Medal, Legions of Merit and the Purple Heart.
Religious Faith: A Roman Catholic faithful to the teachings of the Magisterium, Dr. Collins completed his doctoral work on Catholic higher education at Benedictine University. He and his wife, Drenda, have consistently given of their time to the Roman Catholic Church while raising three children who are all products of Catholic elementary and secondary parochial schools and universities. Active in his faith during 21 military relocations, Dr. Collins has been involved in more than 20 parishes with service and leadership roles on Parish Council, Knights of Columbus (4th Degree), Catholic Charities, SHARE Food Network, Extraordinary Minister of Holy Communion, a teacher of fifth and eighth grade catechesis, and with Drenda they were involved in Federal Prison Ministry. Personal and professional affiliations include Air Force Association, Catholic Charities, Fellowship of Catholic Scholars and United Service Organizations.
Teacher and Scholar: Having completed his initial teaching certification in 1980, he has been teaching undergraduate and graduate coursework since 1996. He continues to serve as an adjunct faculty member and as an FAA-certified flight instructor. An experienced public speaker with diplomatic expertise, Dr. Collins has served as a guest lecturer on ethics, character development, and aviation technology development with unmanned systems at colleges and universities around the country, as well as chairing a Doctoral Dissertation Committee.
He has authored numerous articles on Catholic higher education and presented at Catholic education symposiums conducted by the University of Dayton, King's College, PA, and Saint Vincent College, PA.
Personal Education: His extensive educational experiences include coursework at Columbia University, Georgetown University, Harvard University, Indiana University-Purdue University Indianapolis, FEMA's Emergency Management Institute, Air War College, Army Command and General Staff College.
Dr. Collins earned an Associate of Science degree from Georgia Military College, a Bachelor of Science degree from the United States Air Force Academy, a Master of Aeronautical Science degree from Embry-Riddle Aeronautical University, a Master of Science degree from the National War College and a Doctor of Education degree from Benedictine University.