Walsh University Test Optional Admissions Policy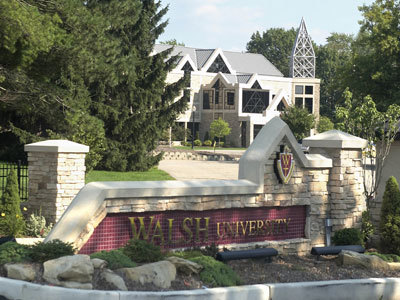 Our Admissions Office supports a holistic approach to evaluating our freshman applicants. We believe there are many ways of measuring your strengths and readiness for college. In that regard, our Test Optional policy offers an admissions pathway for students whose potential for academic success is not accurately captured by standardized test scores.
By opting to apply under our test optional policy, you will not be required to submit ACT or SAT test scores. Your application will be evaluated based on your application information, high school transcripts, and admissions essay.
Eligibility to Apply Under the Test Optional Policy
In order to be eligible to apply under the Test Optional policy, students must meet a minimum of 3.0 GPA in college preparatory curriculum. Please note that having a 3.0 GPA in a college preparatory curriculum does not guarantee your admission to Walsh University.
Applying Under the Test Optional Policy
Please indicate on the admissions application if you plan to apply as a Test Optional applicant. Even if you have sent test scores to Walsh, but subsequently apply as a Test Optional candidate, we will not consider your test scores in our admissions evaluation.
Applying under the test optional policy is a personal decision. If you do not feel your test results adequately reflect your academic potential, taking advantage of the Test Optional policy may be your best choice. In order to help you with your decision, below is our student profile from the last incoming freshman class.
Grade Point Average (GPA):  3.10-3.86
ACT 25th-75th percentile (Composite scores): 20-26
SAT 25th-75th percentile (Math + Reading):  970-1170
Application Materials Required Under the Test Optional Policy
 Transcripts- College Preparatory curriculum required
Admissions short essays within application
Extracurricular activities listed on admissions application
Transcripts:
The transcript will be evaluated on the following categories:

Recalculation of GPA- English, math, sciences, social studies/history, foreign language, and other college preparatory courses.

Rigor of classes according to high school offerings- number of dual enrollment, honors, AP/IB courses taken by student.

Consistency of performance across 4 years of high school course work
Essay:
It will measure student's writing ability proven to be critical in student college success

Measure student's non-cognitive traits such as positive self-concept, grit, service, leadership, ability to meet long-term goals, and knowledge acquired in their field of study
Scholarship Opportunities as a Test Optional Applicant
All students who apply to Walsh are eligible for scholarship consideration and will be reviewed for a merit scholarship during the evaluation process.
For more information about Walsh's Test Optional policy, contact the Office of Undergraduate Admissions at 800.362.9846
Ready to Take the Next Step?
Complete the form below to request additional information.