What does the Walsh Fund Support?
The Walsh Fund enables the University to offer the quality education our students expect and deserve. Your gift to this annual fundraising drive supports student scholarships, programming, technology, classroom resources, laboratories, the library, our athletic teams, extracurricular activities, and so much more.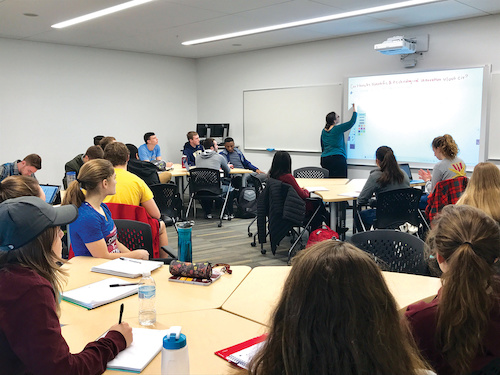 Why should I give to the Walsh Fund?
The simple answer is because our students need your support.
Did you know…
More than 95% of our students require some form of financial aid to pursue their degrees?
After traditional financial aid, loans, scholarships, and work study, the average Walsh student still has an unmet need of 25% of their tuition?
46% are first in their families to go to college?
Tuition covers only 78% of the cost to educate a Walsh student?
Gifts to the Walsh Fund help support students directly through institutional aid. They also fund critical learning resources that help keep costs to the University down, which helps us keep tuition down for our students.
Your generosity makes the difference – it helps educate tomorrow's leaders who are in our classrooms today!
Can I direct where my gift is applied?
Absolutely! While our area of greatest need is our student scholarships and general operating support, we welcome your contribution to the program or project that is nearest and dearest to your heart. You can even make gifts in memory or honor of a friend or loved one.
How can I make my gift to the Walsh Fund?
Gifts of all sizes are welcome. You can make your gift by cash, check or credit card, or you can pledge to pay your contribution over the next year.
Online:
Make a secure gift online using your credit card, Paypal or Venmo. You can even make a reoccurring gift that is renewed monthly.
Mail:
Mail your check payable to The Walsh Fund to:
The Walsh Fund
Walsh University Office of Philanthropy
2020 East Maple Street
North Canton, OH 44720
Pledge:
Contact Jonathan Stump at 330.490.7049 or jstump@walsh.edu to make your gift or pledge.
For more information on contributing to the Walsh Fund, please call 330.490.7049