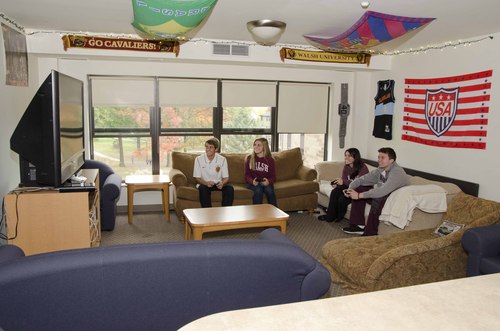 Betzler Tower, a gift made possible by Don & Ida Betzler, is located in the center of Menard Hall. Renovated in 2006, this portion of the residence hall facility offers single-room, double-room, triple-room, and suite-style accommodations.
Betzler Tower has secure swipe entry and a house phone at each main entrance. Only students living in the building will be able to access the front doors with their student ID card. Non-residents, including guests, are required to be escorted at all times within the building by the student host.
Bedrooms come equipped with:
Large built-in wardrobes
Bunk beds
Standard twin-size mattresses
Desks
Three-drawer dressers
Suite-style rooms also include:
Refrigerator
Microwave
Air-conditioning
Co-ed: No. Male and Female residents are separated by wing or floor.
Meal Plan: Full Meal Plan Required
Alcohol Permitted: Yes, to students 21 and over.
Students living in Betzler Tower will also enjoy:
High-speed internet access with Wi-Fi  
Community Laundry Room
Computer Lab
Fitness Center
Quiet-study rooms
Chapel
Ice and Vending machines
Menard Hall (containing Betzler Tower) is connected to the Towers Connector, a common area that offers amenities such as spacious common areas, a computer lab, classroom, 75-seat movie theater and a convenient store offering grab-and-go foods.
Betzler Tower offers a variety of accommodations and amenities for the perfect place to call home while living on campus.