Most universities prepare you to change the world after graduation...
as a Blouin Scholar, you'll start on your first day.
The Blouin Scholars Program at Walsh University provides students with a unique opportunity to become part of a community of students and faculty dedicated to using scholarship and service to address local and global challenges. This four-year program is designed to foster change-makers in the community and develop leaders in service to others. It is a learning community of residential and commuter students who have a passion for making the world a better place. Blouin Scholars take classes with a cohort of similarly dedicated students. All classes are built into the Walsh University core curriculum—you still choose your own majors and minors—and center on common themes of social justice within our local and global communities. Throughout this experience, students are supported by the Office of Experiential Learning and a team of faculty dedicated to the learning community. Students will also be supported with opportunities such as global learning, study away, special lectures, co-curricular activities, priority registration and advising procedures, and special designation at commencement.
---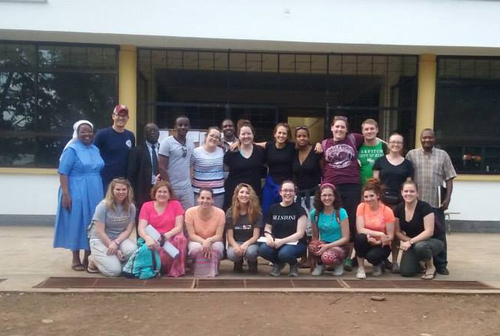 Benefits of Becoming a Blouin Scholar
Use scholarship and service to address major global and local issues
Participate in an international experience
Participate in a domestic study away program
Participate in experiential service opportunities
Complete unique program course work and receive distinction at graduation
Receive financial benefits, renewable scholarship (four years)
Develop leadership, critical thinking, problem solving, communication and intercultural competencies
Admissions Criteria
3.25 GPA
Application
Essay
Resume
Interview
Letter of Recommendation
Apply to the Blouin Scholars Program Today!
2023–2024 Accepted Blouin Students
Students who were accepted into the Blouin Scholars Program, please click the link below to complete the Blouin Scholars Program Decision Form:
(Video by Walsh Alum Cari Shell)
Walsh University Office of Global Learning
Inspired by the example of the Brothers of Christian Instruction and guided by the mission of Walsh University, the Office of Global Learning provides educational opportunities which value the diversity of human experience across the globe. Global Learning students become part of a learning community which encourages them to partner with peers around the world to serve, while exploring the foundations of their own religious, cultural, and intellectual traditions. Global Learning advances students, personal, professional and cultural development through active engagement with the global community.
Br. Francis Blouin
Walsh University's third President, Br. Francis Blouin exemplified servant-leadership and global service. During his presidency, Br. Francis was responsible for bringing four Nobel Peace Prize winners to campus with the most notable being Mother Teresa. After retiring as Walsh's president in 1992, Br. Francis spent the majority of this time in Africa serving as the coordinator of the Kisubi Brothers University Centre, in Kisubi, Africa and participating in countless initiatives to bring higher education to the people of Africa. In January 2017, Br. Francis passed away from complications due to ALS. However, his memory and his legacy live on through Walsh University and its students.
Contact Information
For more information about the Walsh University Br. Francis Blouin Global Scholars Program contact:
Dr. Nick Morris
Blouin Faculty Director
330.490.7600
nmorris@walsh.edu
Office of Admissions
330.490.7172
admissions@walsh.edu
---
Ready to Take the Next Step?
Complete the form below to request additional information.